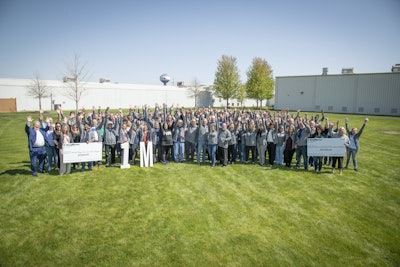 BorgWarner's Dixon, Illinois, manufacturing site has worked more than 1 million accident-free hours, earning the plant the 2022 CEO's Safety Excellence Award.
"I'm honored to accept this award on behalf of all our employees here in Dixon, who have embraced our safety-first culture and made Dixon a benchmark for safety in our region and across BorgWarner," says Ricardo Hernandez, plant manager for BorgWarner Emissions, Thermal and Turbo Systems. "Safety isn't trivial -- it takes commitment and engagement by every employee as we strive to be the safest plant in BorgWarner."
Frederic Lissalde, president and CEO of BorgWarner, presented the award on May 4.
"To me, safety is a mindset about caring about yourself; about caring about others," he says. "It's a mindset about continuous improvement. I congratulate you for having that mindset as a group and as a community."
The award includes a prize of $20,000 that was split by three local charities: Dixon PADS Homeless Shelter, the United Way Summer Eats program and the Dixon Firefighters Charitable Association. Dixon PADS provides shelter, food, education and more to homeless people and families to aid in the goal of independent living. The United Way program provides free meals to children and teens while school is out in the summer, and the firefighters association will use the donation for fire prevention educational supplies.