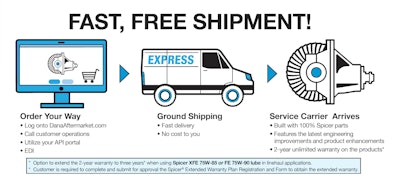 Dana Incorporated has launched its new Spicer ReadyCarrier program for commercial vehicles. Dana customers who service heavy and medium duty trucks can now receive next-day shipments of Spicer service carriers.
"When trucks go down, Dana is there to meet customers' needs for quick receipt of replacement service carriers," says Bill Nunnery, senior director, sales and marketing, global aftermarket for Dana. "The new Spicer ReadyCarrier program offers fast-turnaround solutions that helps get commercial vehicles back on the road quickly. Dana customers can now order replacement service carriers, built with 100 percent genuine Spicer parts, to be shipped within one business day of order."
The Spicer ReadyCarrier program provides customers with a seamless ordering process and the convenience of next-day shipment from receipt of order. Dana offers more than 500 service carriers that are built to original equipment (OE) specifications and feature genuine Spicer parts. Both core-exchange and core-free options are available, and no core deposit or core return is required with the core-free option, Dana says.
Spicer ReadyCarrier orders can be made by visiting DanaAftermarket.com, calling customer operations, or utilizing an API portal or electronic data interchange (EDI). There is no shipping cost and the service carrier that arrives will feature the latest engineering improvements and product enhancements, plus a two-year unlimited warranty, Dana adds.
"Valuable time and money can be lost while awaiting replacement parts after a service carrier fails," says Nunnery. "With the Spicer ReadyCarrier program, shipments made the next business day will help keep downtime to a minimum."