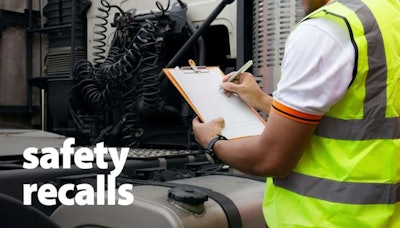 The following safety recalls were issued Monday by the National Highway Traffic Safety Administration (NHTSA): 
Daimler Vans USA is recalling certain 2021 Mercedes-Benz Sprinter, Metris, and Freightliner Sprinter vehicles equipped with Automatic Locking Retractor (ALR) seat belt assemblies. The seat belt automatic locking retractors may deactivate early, which can prevent the child restraint system from securing properly. As such, these assemblies fail to comply with the requirements of Federal Motor Vehicle Safety Standard number 208, "Occupant Crash Protection." An unsecured child restraint system can increase the risk of injury during a crash. NHTSA says potentially 1,514 vehicles are affected by the recall.    
General Motors is recalling certain 2021-2022 Chevrolet Silverado 2500, Silverado 3500, GMC Sierra 2500, and Sierra 3500 vehicles with electronic brake control modules (EBCM) replaced during vehicle assembly. The bolts that attach the brake pressure modulator valve (BPMV) assembly may not be properly tightened, which could fail to seal the two sub-assemblies and allow water intrusion. Water in the BPMV may cause an electrical short circuit and increase the risk of fire. NHTSA says potentially 3,241 vehicles are affected by the recall.