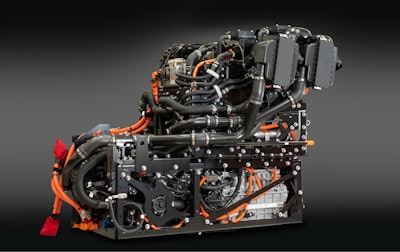 Toyota
Editor's note: This story has been amended from an earlier version. Toyota will be offering its fuel cell kit for new factory spec'd trucks only.
Toyota announced Monday that the California Air Resources Board has approved of their Class 8 zero-emission fuel cell kit that will be available later this year for new factory spec'd trucks.
The hydrogen-fueled powertrain kit includes hydrogen fuel storage tanks, fuel cell stacks, batteries, electric motors and transmission.
"Toyota aims to reduce or eliminate emissions for all mobility solutions, and our fuel cell electric powertrains have proven that hydrogen can play a significant role in the reduction of emissions from heavy-duty transportation," said Scott Friedman, senior program manager advanced mobility, Toyota Motor North America. "Receiving the Zero-Emission Powertrain Executive Order from CARB is a key achievement for our teams who have dedicated an incredible amount of time and effort, and we are excited to offer this powertrain commercially in the near future."
Toyota's CARB ZEP-certified powertrain kit is now ready for commercialization, with production slated to start for customers later this year at the company's Kentucky manufacturing plant. The kit is designed for seamless integration to OEM-engineered gliders. It is not intended as a rebuild solution for rebuild applications.
Toyota also told Commercial Carrier Journal that range for their kit "will vary by application and the truck manufacturer." Toyota is not providing the weight of the kit at this time. Powertrain warranty will be in conjunction with the vehicle OEM's warranty. Zero-emission incentive programs can be used in the purchase.
"The powertrain kit certification allows for eligibility for certain incentives," Toyota spokesperson Josh Burns told CCJ. "Those incentives can vary per state and federal programs. Please check with your local and federal agencies for additional details."
According to the Department of Energy, all 60 hydrogen stations in the U.S. are limited to California only. With that in mind, CCJ asked if the kits would be available for purchase outside the state.
"Toyota is offering the kit to truck manufacturers," Burns said. "Where they sell their kits is up to those customers."
Fuel cell electric powertrains are advantageous for heavy- and medium-duty transport compared to all-electric options as they are often lighter to allow for more payload, and they offer more uptime thanks to fueling times that are much closer to conventional diesel powertrains.
Toyota's efforts with hydrogen-powered heavy-duty truck powertrains started with Project Portal back in 2017. Toyota has developed multiple generations of powertrain prototypes during development, such as those found the Alpha and Beta trucks that logged nearly 14,000 miles of testing and real-world drayage operations in and around the Port of Los Angeles.
Toyota credits the generation of truck named "Ocean" that showed some of the greatest examples of how hydrogen-based powertrains with fuel cell stacks could be used in real-world applications such as drayage, through a proof-of-concept demonstration at the Port of Los Angeles as part of the Zero-and-Near-Zero Emission Freight Facilities' "Shore to Store" Project (ZANZEFF).
For the project, Toyota worked with Kenworth to develop trucks using an updated prototype fuel cell electric powertrain and deployed 10 Kenworth T680 Class 8 trucks. The 10 trucks served real-world customers via drayage routes, with infrastructure support from Shell, hauling cargo between the Ports of Los Angeles and Long Beach and the LA Basin.
Toyota draws on 30 years of fuel cell experience which includes production of the world's first mass market passenger fuel cell car, the Mirai.
OEMs using Toyota's certified powertrain may be eligible for CARB's Hybrid and Zero-Emission Truck and Bus Voucher Incentive Project (HVIP), the Clean Truck Fund (CTF) introduced last year by the Ports of Los Angeles and Long Beach, and certain federal incentives.