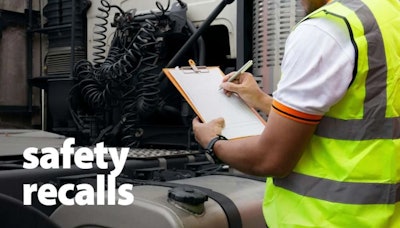 The following safety recalls were issued Monday by the National Highway Traffic Safety Administration (NHTSA):
Jayco is recalling certain 2024 Jayco Precept and Entegra Coach Vision XL motorhomes. The window shade may obstruct the emergency exit window opening. An obstructed emergency exit window may prevent or delay occupants from exiting in an emergency, increasing the risk of injury. NHTSA says potentially 46 units are affected by the recall.
Lightning eMotors is recalling certain 2021-2022 FT3-40, 2021-2023 FT3-80, and 2022-2023 FT3-120 vehicles. The instrument cluster may not activate the "Brake," "Park," and "ABS" indicator warning lights during the light function check when the ignition is turned to the "on" (run) position. As such, these vehicles fail to comply with the requirements of Federal Motor Vehicle Safety Standard (FMVSS) number 105, "Hydraulic and Electric Brake Systems." Failure to illuminate the indicator warning lights during vehicle startup may not properly notify the driver of system failures, increasing the risk of a crash. NHTSA says potentially 239 units are affected by the recall.
Paccar is recalling certain 2021-2024 Peterbilt 579 and 567 trucks. The U-bolts that attach the air tank to the chassis may contact the fuel tank and over time, wear a hole in the tank. A punctured fuel tank can leak fuel, increasing the risk of a fire. NHTSA says potentially 1,315 units are affected by the recall.