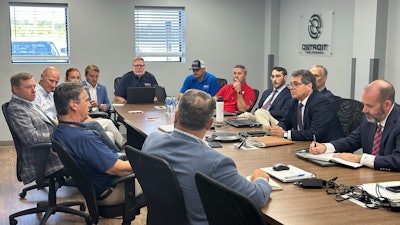 Four Star Freightliner
Four Star Freightliner welcomed Rep. Barry Moore (R) to its Dothan, Ala., location on July 6. Four Star's leadership team, headed by Dealer Principal Jerry Kocan, met with the congressman to discuss a variety of issues including jobs for veterans, a new policy by the Environmental Protection Agency (EPA) that affects truckers' ability to travel to California, and other matters facing the trucking industry.
The congressman was also given a tour of the Foster-Davenport Training Center where new and experienced diesel technicians come to learn the newest technology and earn certifications. The 6,500 sq.-ft., training center for diesel technicians was opened in 2020. The facility features a drive-through bay and two classrooms with state-of-the-art training equipment.
Rep. Moore also had the opportunity to ride in a Freightliner truck before sitting down for lunch with employees.