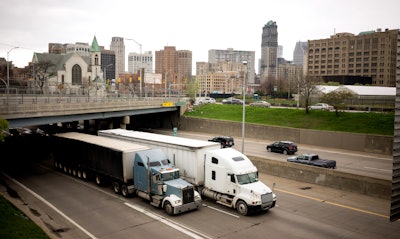 Many highway safety groups have joined forces to voice their opposition to legislation in both the U.S. House and Senate that, if passed, would block the Federal Motor Carrier Safety Administration (FMCSA) from mandating speed limiters on heavy-duty trucks.
The Truck Safety Coalition, Advocates for Highway and Auto Safety, the Trucking Alliance, Road Safe America, and the National Safety Council said they are "steadfastly opposed" to the Deregulating Restrictions on Interstate Vehicles and Eighteen-Wheelers (DRIVE) Act.
The groups cited a 71% increase in truck crash deaths since 2009, claiming that "speeding continues to be a leading contributing factor in the tragic rise in truck crash deaths and injuries."
They add that speed limiters "are a proven solution to curbing traffic deaths."
"About 98% of the 62,000 trucks operated by Trucking Alliance carriers already use speed limiters, because it's safe for our drivers," says Steve Williams, CEO of Maverick USA and president of The Trucking Alliance. "The science is clear. It takes an 80,000-lb., tractor-trailer rig much farther to stop when going 80 miles per hour than it does at 65 or 70 miles per hour. Everybody needs to slow down, and allowing FMCSA to pursue its rulemaking is the right thing to do."
The groups also noted that "speed limiter devise are already standard equipment on large trucks," stating the most fleets already use them. "A speed limiter requirement will save lives and prevent needless suffering. FMCSA must be allowed to continue this critical rulemaking."
The American Trucking Associations (ATA) has also been opposed to Congressional efforts to block speed limiters, while the Owner-Operator Independent Drivers Association, National Association of Small Trucking Companies, and CDL Drivers Unlimited groups have signaled support for the legislation to block the technology.