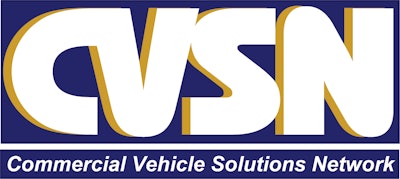 The Commercial Vehicle Solutions Network (CVSN) and member companies FleetPride and Total Truck Parts of Florida were active in Massachusetts this week, speaking to state's legislature regarding right to repair and the importance of independent service and parts operations having access to repair information for heavy equipment.
Legislative action is one of CVSN's pillars and the organization has been a staunch supporter of the aftermarket in ongoing fight for repair information and access against the OEM and dealer channels. CVSN, FleetPride and Total Truck Parts were speaking out against Senate Bill 199, which could limit access to vehicle telematics systems for new heavy-duty equipment.
In a trio of statements to the commonwealth's leaders, CVSN Director of Operations Kristen Kellogg, FleetPride President Mike Harris and Senior Vice President, General Counsel Baron T. Oursler, and Total Truck Parts' President Marc Karon were direct about the potential downside of S199 becoming law in Massachusetts.
"Approval of S199 will eliminate thousands of jobs, create an economic supply chain crisis because trucks will have to wait for service, and add significant costs to the citizens of Massachusetts since that is what happens when you create a monopoly," states Karon. "The key wording that excludes 'heavy-duty vehicles built to custom specifications' can be interpreted to exclude almost every commercial vehicle since every commercial vehicle has some custom items that relate to the intended use."
[RELATED: CVSN gives back, gets active and recognizes industry leaders at 2023 Summit]
Adds FleetPride, "By excluding those 'built to custom specifications,' one could argue that Senate Bill 199 would effectively exclude all commercial heavy-duty vehicles from the law. You see, much as a buyer of a new Toyota Camry has choices among various packages, a buyer of a new Freightliner Cascadia has choices in the cab configuration, engine, suspension and transmission, to name a few. As with the Camry buyer, the decision faced by the Cascadia buyer is driven by his or her wants or needs. While there may be more application-driven choices available to the Cascadia buyer, this has no bearing upon his or her need for the diagnostic data nor the ability of Freightliner to safely and securely transmit that data by telematics. Senate Bill 199 would render the referendum meaningless as to commercial heavy-duty vehicles."
Kellogg continues, "If you exclude commercial vehicles from the right to repair, you are not only denying the independent shops the ability to do business in the state, but truck owners will be forced wait months for their trucks to get repaired at a dealership. And with over 87,000 commercial vehicles in operation in the state of Massachusetts, this is a genuine concern because the independent shops represent nearly one third of all truck repair options in Massachusetts and close to half of the non-warranty repair work."
She adds, " From a bigger picture, the right to repair empowers consumers by giving them control over their products. They have the ability to choose who repairs their vehicles and can make informed decisions based on factors such as cost, convenience, and quality. It reduces dependency on manufacturers and encourages competition. Increased competition in the marketplace leads to the growth of small businesses, which, in turn, generates employment opportunities. By supporting and encouraging competition, small businesses become engines of economic development, driving local economies, and fostering prosperity."
[RELATED: Answer to technician pay schedule isn't always cut and dried]
FleetPride and Karon also touched on the importance of the independent aftermarket having access to repair information in terms of customer uptime.
"As an example," Karon says, "there are sensors in your car that tell you when something is not working as it should. In many cases, the vehicle owner can fix the problem and reset the fault code themself. If you are not capable to doing the repair, you can take your car to a service shop where they can connect it to a scan tool, diagnose the problem and, in most cases, reset the fault code after the repair is successfully completed. Anyone who has had to go to a dealer knows that the time to fix their vehicle can be several days or weeks. Imagine how that delay can impact a small business with just one truck in their fleet.
He elaborates, "I reiterate that these repairs do not and could not change any of the performance characteristics of the vehicle because we are not allowed to change any of the operating parameters from the original programming. Hence, there is no risk to safety. This system has worked well for over ten years and the independent shops and fleet owners have been able to conduct these simple repairs without the long and costly delays from the dealers."
"Please remember the commercial vehicle aftermarket has historically had access to this repair and maintenance data and the nefarious outcomes envisioned by the opposition have not come to pass," FleetPride adds. "All we are asking is that the same repair and maintenance data continue to be accessible to fleet owners for self-repair or independent repair now that the data can be transmitted wirelessly from the vehicle."