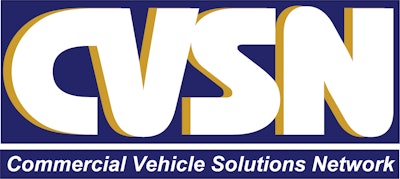 Tremendous engagement and an all-time charitable donation record highlighted the 2023 Commercial Vehicle Solutions Network (CVSN) Summit last month in Boston.
Returning to the Northeast for the first time since its 2015 Summit in Newport, R.I., this year's CVSN event was a well attended affair. The event featured Summit mainstays such as the CVSN President's Award, GenNext 4 Under 40 Awards and a full slate of Private Strategic Planning sessions as well as new educational tracts focused on CVSN's new four pillars.
"This year's conference has injected a new energy into CVSN, propelling us forward on our mission to accelerate innovation within our member organizations," said CVSN President Nick Seidel of Action Truck Parts after the event. "CVSN plays a crucial role in driving progress and fostering co-opetition, and the Summit has successfully established these pillars to be the foundation of our association going forward as we grow."
[RELATED: UPS workers could go on strike in two weeks. Are you prepared?]
Held June 10-14 at the Boston Renaissance Waterfront, the Summit began with a day of networking and tourism activities before kicking into high gear on Monday June 12 with the presentation of the CVSN President's Award.
This year's honorees were brothers Andy and Paul Raymond, who led Parts For Trucks for many years before selling the business last decade. The brothers were thrilled to receive the recognition and credited their longtime Parts For Trucks colleagues.
"It's a team award. It's an award for Parts For Trucks over the period Paul and I were owners. To us, it's more like a Super Bowl or Stanley Cup victory than an MVP award. Paul and I view it was a team championship for us," Andy said.
Also on Monday was a keynote presentation by Alan Timothy of Bubo.AI, who shared how the independent aftermarket could use artificial intelligence to help sell truck parts. Timothy's presentation was vital because it cut through the noise regarding AI and presented clear use cases for where computers and business intelligence can be vital when selling and stocking components.
The day also featured panel discussion featuring Alana Baker with AIA Canada, and Tommy Hickey of Brian Hickey Associates, both of which work to fight on behalf of the independent aftermarket regarding access to information and Right to Repair. In sharing their work at the Summit, both panelists said the best way to ensure the aftermarket wins in its quest to acquire repair information is for everyone who would benefit from such information to become engaged. "If you aren't at the table, you're on the menu," said Hickey. "Be vocal. Be involved."
Monday's schedule also featured economic outlook reports from Molly MacKay Zacker with MacKay & Company and S&P Global Mobility's Scott Huston. Both speakers said their research is indicating the aftermarket and U.S. economy are growing slightly in 2023 but may slow down as the year closes.
On Tuesday, CVSN was back at it with another great speaker. Dan Schuberth of the National Association of Wholesale Distributors (NAW) took the stage and picked up the baton left by Baker and Hickey and continued to tout the importance and value of industry associations. Schuberth said groups like NAW and CVSN enable industry to "do things together that no one of us can do on our own." Schuberth said industry participation in associations is how small business can drive big change in Washington, as well as their state and localities. "When you can organize companies to work together with public officials, you get to have a little more of a say," he said. "Associations give companies a larger seat at the table."
[RELATED: Industry cooperation solves PTO install puzzle]
The GenNext 4 Under 40 Awards were also presented at this year's Summit. Sponsored by Trucks, Parts, Service, the award program honors young industry professionals who are striving to make a difference and help lead the aftermarket into the future. Winners of this year's award were Michael Callison Jr., Midwest Wheel Companies; Adam Diecks, Point Spring & Driveshaft; Tom Flicek, VIPAR Heavy Duty Family of Companies; and Katie Benet, DRiV Incorporated.
This year's Summit then concluded with the annual memorial John Bzeta Children's Charity Auction. This year's event raised an all-time auction record of more than $100,000 for the Boston Children's Hospital. "Charity is an integral part of our industry's DNA, and the late John Bzeta always was a leader in bringing our industry together for a noble cause. The generosity displayed by our attendees is truly remarkable and deeply appreciated," said Edward Kuo, executive director of CVSN.