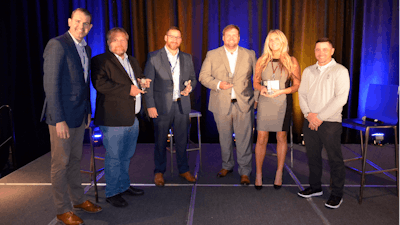 GenNext, the segment of the Commercial Vehicle Solutions Network (CVSN) dedicated to recruiting, mentoring and educating the next generation of heavy-duty independent aftermarket leaders, announced the winners of its annual 4 Under 40 Awards Tuesday at the CVSN Summit in Boston.
Sponsored by Trucks, Parts, Service, the 4 Under 40 Awards program was started in 2018 as a way to recognize and honor young professionals who are striving to make a difference and help lead the aftermarket into the future.
Winners of this year's award were Michael Callison Jr., Midwest Wheel Companies; Adam Diecks, Point Spring & Driveshaft; Tom Flicek, VIPAR Heavy Duty Family of Companies; and Katie Benet, DRiV Incorporated. The awards were presented by TPS Editor Lucas Deal and Nick Seidel of Action Truck Parts and CVSN President.
The four were unaware of their impending recognition before Tuesday's announcement and were expectedly dumbfounded, appreciative and humbled by the honor.
"I was shocked. I'm still kind of speechless," said Flicek.
"I was surprised when my picture popped up," added Diecks. "It makes you feel good to be nominated by someone in the room and industry who thinks highly of you."
When asked who they thought submitted their names for the award program, this year's winners were unsure but quick to thank whomever had done so, both for their public support and observation of how hard these four are working to be successful in the independent aftermarket.
"To work as hard as we do and to be recognized by one of your peers is a nice honor," said Callison.
"I have a pretty good guess of who it was," Benet said. "I just appreciate having the opportunities to be able to be at meetings and events like this and to be involved."
[RELATED: Paul and Andy Raymond earns CVSN President's Award]
The four winners also said they intend to use this experience to motivate colleagues and contemporaries in their businesses and the industry to also lean in and get involved in the greater independent aftermarket.
"We've hired a few new people in our business recently and I want to make a point of letting them to know to get out there," Benet said. "You're not unwelcome in any room."
Added Diecks, "I was fortunate when I started at [Point Spring] to attend CVSN and HDAW and events like that when I probably had no business being there. If we have the right people in our business, I'm going to encourage Sean [Ryan] to bring them and let them get the exposure."
"There are a lot of leadership events that are good for young people. If we can identify that young talent and get them involved, that's an incredible positive," said Callison.
"Growing within an organization is so key," added Flicek. "Just having young people in your organization be involved in meetings, interactions with suppliers. Giving them that time to be involved."