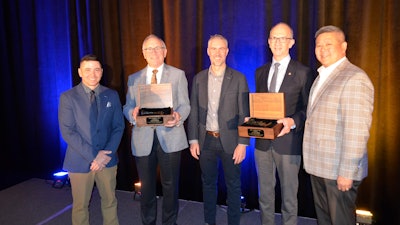 Paul and Andy Raymond, longtime leaders of Parts For Trucks, were named the winners of the Presidents' Award Monday during the Commercial Vehicle Solutions Network (CVSN) Summit in Boston.
The Raymond family founded Parts For Trucks in eastern Canada. Paul and Andy Raymond led the business for many years before selling the operation last decade. Parts For Trucks has since continued to grow, acquiring Fleet Brake in February and expanding fully across the Canadian market.
"The award means something to us. Our father won the award, so it was really cool to have that and see the three Raymonds recognized," said Andy Raymond.
"When your peer group recognizes you for what you've done in the industry, that's the highest level of praise," Paul Raymond added. "It's heartwarming to be recognized."
The brothers also were quick to thank their past colleagues at Parts For Trucks for the support they provided when running the business.
"It's a team award. It's an award for Parts For Trucks over the period Paul and I were owners. To us, it's more like a Super Bowl or Stanley Cup victory than an MVP award. Paul and I view it was a team championship for us," Andy said.
And the Raymonds are equally proud to see how the business has continued to grow under new leaders Corey and Brett Miller.
"When we sold the company to Corey and Brett, we promised our employees a secure future and plenty of opportunities for growth with those young owners," Paul said. "Although we had nothing to do with the [Fleet Brake] transaction, I think we can say we delivered on what we told them."
Andy added, "Parts For Trucks was started over 100 years ago by another family. It had two generations in that family and two generations in our family. We still see the family that started it, and they're proud it too. It's a great story and we're happy to be part of that story."
"It's a sense of emotional satisfaction that you really can't overstate," Paul said. "It makes you very proud and grateful when you see the company prospering and growing."