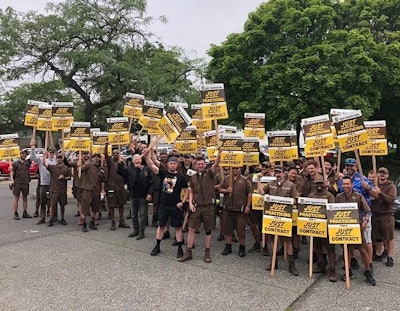 International Brotherhood of Teamsters
At this summer's Fullbay conference in Phoenix, a heavy-duty repair shop owner talked about buying a seat on an airplane for a wiring harness to get it to his shop by the time the customer needed it.
Without that seat — or without reliable shipping — shops and the companies that depend on them to keep their trucks running can't get the parts they need to keep their trucks working.
While during the COVID-19 pandemic, the problem was getting parts and materials as factories shut down. Now, though, with labor shortages and potential stoppages it's getting the goods onto the trucks.
UPS: 5.2 billion parcels per year
About a quarter of the parcels in the U.S. move via UPS. The ubiquitous brown trucks crisscross America, shipping 5.2 billion parcels per year, Pitney Bowes says. Those trucks are driven and loaded by more than 340,000 full- and part-time workers represented by the International Brotherhood of Teamsters. The union's contract with the company is set to expire at the end of this month and negotiations haven't been going well.
"Following marathon negotiations, UPS refused to give the Teamsters a last, best and final offer, telling the union the company had nothing more to give," the Teamsters say in a news release after negotiations collapsed in the wee hours of July 5.
"This multibillion-dollar corporation has plenty to give American workers — they just don't want to," says Teamsters General President Sean M. O'Brien. "UPS had a choice to make, and they have clearly chosen to go down the wrong road."
For its part, UPS says it has in no way left the negotiating table and on July 7, accused the Teamsters of abandoning the process.
"The Teamsters stopped negotiating this week despite strong proposals from the company that build on our industry-leading pay and benefits for our full-time and part-time employees. We have encouraged the Teamsters to return to the table to continue building on the significant progress we have made, including the recent completion of all local supplements," the company says.
Teamsters and UPS have reached a consensus on 55 non-economic issues, but appear to be stuck on increasing health, welfare and pension benefits for members. If no agreement is met, the Teamsters voted overwhelmingly to authorize a strike.
"Refusing to negotiate, especially when the finish line is in sight, creates significant unease among employees and customers and threatens to disrupt the U.S. economy," UPS says. "We are proud of the proposals we have put for that deliver wins for our people."
Jason Miler is a supply chain professor at Michigan State University's Eli Broad College of Business.
"A UPS strike is certainly less significant than a rail strike – which would have been economically catastrophic – but will nonetheless be highly disruptive," Miller says. "Key sectors affected will be auto dealers needing spare parts (many of these come from warehouses where parcel carriers handle the transportation), wholesalers of commercial and professional equipment, wholesalers of electrical products and especially electronic components, spare parts for machinery, and wholesaling of apparel."
Moving freight to move freight
Scott Smith is the vice president of sales and marketing for Sirco Industries. Sirco makes 5,000 products for the heavy-duty aftermarket from its headquarters in Elkhart, Indiana. Smith says Sirco ships many of its products less-than-truckload, largely because of weight the size of their shipments, but UPS trucks leave the building daily.
"We're looking at backup plans," Smith says, in some cases drawing on lessons the company learned during the COVID pandemic to help it navigate the possibility of losing a shipper.
"The one thing we learned [from COVID] was that something of that magnitude can happen," he recalls. "To see how quickly costs went up on things, spiraling out of control, and not being able to do anything about it other than suck it up and, unfortunately, pass it on. Everyone has reached a different level of preparedness, but does that mean we're going to be ready? There's so many variables it's hard to know."
Smith is calling this the "Summer of Strikes," saying his company is also watching a Canadian longshoreman's strike that will impact product coming into Vancouver and other ports. He says he hopes the UPS strike is averted.
"I'm guessing it would take some government support or intervention to get it where it needs to go," Smith says.
Taking up the slack
FedEx is already preparing for UPS workers to walk.
It says it is accepting additional volume, but the carrier's priority is protecting capacity and service for existing customers.
"Shippers who are considering shifting volume to FedEx or are currently in discussions with the company to open a new account are encouraged to begin shipping with FedEx now," the company says.
MSU's Miller says according to the Census Bureau's Quarterly Services Survey, there was a sharp drop in seasonally adjusted courier and messenger revenue in the first quarter of 2023.
"Based on these data, inflation adjusted revenue in Q1 2023 was down 11% from Q1 2022 and has regressed back to levels we saw in Q2 2020. Revenue, in contrast, remains quite high due to price increases. This is a good thing for shippers, because had a strike occurred in 2020 through the first half of 2022 (and especially Q4 2020-Q4 2021), it would have been far more disruptive because there was no excess capacity at the time," Miller says. "My sense is that 20% of UPS' volume could be absorbed by the remaining parcel carriers."
He told TPS sister publication Commercial Carrier Journal, for the parcel space, losing UPS would be "highly disruptive." The top four firms — UPS, FedEx, the USPS and Amazon's fleet — handle 91% of industry output. "So we know that losing UPS will be very highly disruptive for parcel delivery. The biggest beneficiary will be FedEx," he says.
What you need to do
Miller says FedEx is right. Shippers using UPS need to establish relationships with new shippers as soon as possible to ensure their packages keep moving.
Smith says Sirco has "tremendous" relationships with other shippers it hopes to leverage should it lose UPS or any other major part of its logistics pipeline.
"For smaller shippers, establish relationships with 3PLs that specialize in parcel aggregation," Miller says. "Pitney Bowes is one of the first names that comes to mind. Stock up on inventories of items that are shipped from your vendors using UPS. For example, if I was a defense contractor and knew that many shipments of electrical components came from an electrical component wholesaler that uses UPS, I may add another few weeks of supply to hedge against possible disruptions.
Smith goes back to something learned during COVID.
"Just be aware and know what you've got to do next to get the job done."