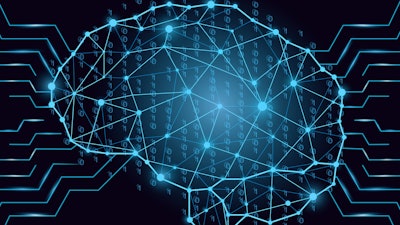 Alan Timothy starts his presentation on artificial intelligence with a disclaimer.
As founder and president of Bubo.AI, Timothy says the seemingly sudden boom of interest into AI devices like Chat GPT and Midjourney is not going to go away. AI technology is advancing and now that it's readily available, it will only continue to do so.
But Timothy also notes despite the headlines, AI is far from ubiquitous. He says far more people are talking about that than actually using it. And he estimates that's going to continue to be the case in the immediate years ahead.
Speaking Monday at the Commercial Vehicle Solutions Network (CVSN) Summit in Boston, Timothy says artificial intelligence has reached Level 3 (of seven) on the famous Turing Test. He says that means while AI isn't quite ready for solving all of our most complex problems, it can now be useful in certain applications when properly deployed.
One application in particular could be wholesale distribution pricing.
In the aftermarket, where businesses manage hundreds of thousands of SKUs and have multi-tiered pricing for almost all of them, wholesale pricing changes have always been challenging. Coupled with the increase in scope and frequency of vendor pricing updates due to post-pandemic inflation, the process is now downright overwhelming.
AI could offer distributors a lifeline, and that's what Timothy wants to do with Bubo.AI.
[RELATED: Building cohesive pricing strategies key to parts distributors' e-commerce success]
He says he founded the company to offer wholesale distribution businesses customizable AI price optimization expertise that can reduce the timeline and headaches associated with setting and updating prices, enabling distributors to increase margins and bottom lines without losing customers.
According to Timothy, the biggest challenge in raising prices is knowing an acceptable range at which a customer is willing to buy a product, and setting a price within the range that maximizes earnings without driving customers away. He says the longstanding practices distributors have to update price aren't flawed, they're just labor intensive. One vendor bumping the price of one line might be an easy thing for a distributor to manage, but when hundreds of price increases are coming through each year — sometimes multiple times for a single product line — the task becomes more daunting.
Timothy says Bubo.AI is designed to reduce that headache. The technology accepts vendor pricing rates and margin expectations inputted by users and, while also scouring the internet for comparative retail pricing expectations, quickly produces pricing structures that will best suit a distributor's business.
It can "identify a price range and keep you at top of the range" without ever going too high, Timothy says, ensuring customers don't feel compelled to look elsewhere.
AI also can free up associates to do other things. Like most technology, Timothy says AI doesn't exist to replace workers as much as enable them to be more productive. For an industry like the aftermarket that is constantly looking for more workers, Timothy says the ability to streamline a task and optimize an employee's responsibilities is something distributors shouldn't overlook.
The AI of science fiction isn't here yet, but Timothy says that shouldn't discourage business from using the technology that does exist. After all, he says the more people begin to use artificial intelligence, the more powerful the technology will become.