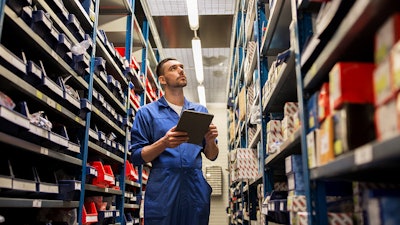 As inflation has taken hold of the U.S. economy, it certainly has had numerous effects on the trucking industry's dealer and aftermarket channels.
While there has been much discussed about parts scarcity and subsequent parts price increases — and what's causing them — all these challenges eventually funnel down to what is most important: the relationship and communication between providers and their customers.
"Inflation has had tremendous impact on us. It's impacted our fuel expense for customer deliveries, our [inbound and outbound] freight expenses and it has impacted our inventory carrying costs," says Michael Ramian, parts director, Advantage Truck Group.
"On top of that, it's forced our customers to look at all options. Some customers who we've been product line partners with for a long time, due to price increases, are exploring other vendors," Ramian says.
Trickle-down effect
To best understand how the customer relationship dynamic has changed between provider and end customer, the issues facing providers caused by inflation must be considered.
Ask any parts distributor which product lines have experienced the largest price increases in the last six to 18 months and most, if not all, are quick to answer, "all of them." However, some parts and products are more problematic to come by than others.
Daryle Settles, vice president, Weldon Parts, is one such provider who admits it's tempting to say the largest price increases have been on all parts, "because that's kind of where it is."
Settles says the price of brake drums are changing constantly, along with filters, and the price of antifreeze is very volatile at this point. "Mudflaps, believe it or not, are crazy. If you can find rubber mud flaps, you're doing well," he adds.
[RELATED: With costs on the rise, suppliers share how they're managing pricing sheet updates]
For Advantage Truck Group, "brake drums, without question, have had the most significant increase. It wasn't that long ago where we could offer a customer a one-wheel brake job for $100 and now we're approaching $300," Ramian says.
Paul Burk, executive vice president, Doggett Freightliner of South Texas and Arkansas, adds batteries, brake shoes and oil to the mix of parts and products whose costs have increased substantially.
Similar to the difficulty sourcing components because of the chip shortage, David Willis, CEO and president, CRW Parts, says aerosolized products are costly and tough to come by because of the materials needed to produce them.
Surprise! Your prices went up
Another factor the parts industry is contending with is frequency with which prices are increasing and how much notice distributors are given which, in turn, affects how they communicate bad news to their customers.
There appears to be little consistency across the vendor space as to when pricing sheets are updated, distributors say. Some suppliers are notifying their channel partners weeks in advance; other send email notifications once increases already have gone into effect.
"These days it's not unusual to get an email from the vendor saying your price is going up in 10 days. It's also not unheard of for vendors to email you the day it goes into effect saying, 'Here's your new pricing; it's effective today,'" Settles says. "Suddenly you get one that's due tomorrow and then you have to drop what you're doing and go make your changes."
CRW Parts has similar experiences with its vendors. "Some are giving us fair warning; others you're finding it's already been in effect. I think the better run companies are giving you forewarning," Willis says.
For Doggett Freightliner the situation is a little different because it sources 90 percent of its parts through Daimler Trucks North America (DTNA). Burk notes DTNA used to send out price tapes monthly or quarterly for pricing updates. "Now we're getting them every other week. Once we get the update, we immediately load it into our system," he says.
Willis echoes Burks sentiments, noting it's not just that prices are going up but it's the rapidity with which they are increasing.
[RELATED: HDA Truck Pride members talk pricing, hiring changes]
Settles says, "It used to be in the industry you got price increases in January, and you may have a few throughout the year. Now, some of the companies are still maybe every six months but some are monthly at this point."
Keeping up with price increases internally is one matter, but effectively communicating those increases to customers to maintain good relationships is another — and that responsibility mainly lies with a company's salesforce.
"We rely on that relationship we have between the customer and the salespeople to discuss those pricing changes and to make sure everyone is informed," says Les Roberts, sales manager, Weldon Parts
"Our salespeople see each customer about once a week, maybe twice a week. They will plan that pricing discussion with their customers at that time. We might have a price increase on Tuesday and the sales rep just saw that customer on Monday, so they will call on the customer and say, 'Hey, we had a price increase on Tuesday,'" Roberts says. "But it's them literally walking in and visiting with those customers. Weldon is strong on relationships. We're not heavy on phone calls with our customers."
Raiman says much of the pricing communication at Advantage Truck Group falls on the shoulders of its sales team to ensure "customers are aware of what's going on both with us and with the industry. The frequency of price increases we've come to expect over the last six months or so has definitely make it harder to stay in front of things."
At CRW Parts, parts pricing information is passed along to its salespeople and counter staff. "But I think, honestly, our customers now are numb, and they take what they get because they understand prices are going up. It's basically been happening for a year now," Willis says. "Unless they've been promised a certain price and it comes in at a different price, I don't think there's a lot of squawking."
Changing buying habits
As the price of parts continue to increase, it certainly would be understandable if there was a certain amount of pushback from customers. However, for the most part, the consensus among parts providers is — some grousing aside — customers understand the economic climate.
"Right now, 90 percent are understanding. They don't like it but they're understanding," Burk says.
Like Burk, Willis says everyone in the industry understands the situation with inflation and its effect on parts and products.
Willis says there will be occasions when customers say they can get a particular part, brake drums for example, at a cheaper price.
"We'll look at them and say, 'Well, by all means go get it from them,' because we know drums are usually a loss leader that a company is selling at below market. [Those parts providers are] trying to buy business and if they got them for that price, I'd buy them," Willis says. "If they can get it somewhere lower, we tell them to go there because we can't match it."
[RELATED: Supply chain, inflation, other concerns addressed by HDMA Pulse Webinar]
Ramian says Advantage Truck Group hasn't received pushback, but customers "are absolutely being forced to revisit their purchasing habits, stocking habits and the vendors they're utilizing."
Weldon Parts also has noticed a change in buying habits of its customers.
"Instead of buying 10 brake drums, they're buying eight. Instead of buying eight brake kits, they're buying four. They still need the product, but they may not buy as much of it as they were previously," says Roberts.
Some customers also are starting to consider different, cheaper brands of the same product, says Willis.
"If they're used to getting product A and that same product is available in product B and it's less expensive, I think they're a lot more willing to try a different brand. That's essentially what happens with most lines. If something gets too expensive, they're going to look and say, 'OK, is there something I can use that's going to do the same thing,'" Willis says.
Burk says Doggett Freightliner hasn't noticed a change in customer buying habits but can see that changing in the future.
"I do think if freight rates stay down, fuel prices continue to go up and there is a pressure on them and their margins, that is going to translate to us and all their suppliers. It hasn't changed their buying habits yet but if the market changes, it will," he says.