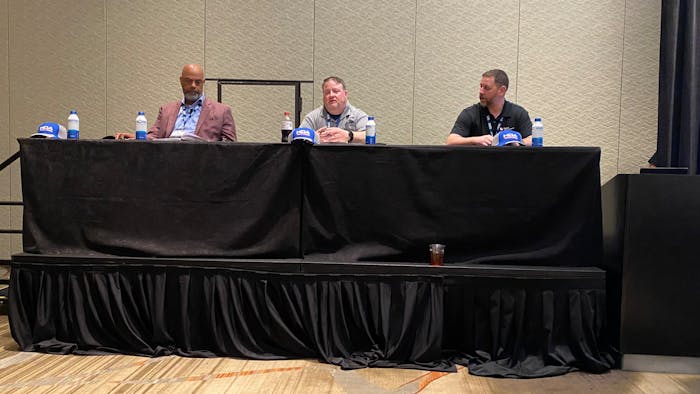 Surviving price inflation and foundational changes in hiring took center stage Friday during a member panel discussion at the 2022 HDA Truck Pride Annual Meeting in Orlando.
In a moderated Q&A discussion led by HDA Truck Pride's Tom Hillegas, Mike Whitfield of Crossroads Trailer, Tim Corcoran of Triple R Truck Parts and Joe Steward from Betts Truck Parts & Service shared how their businesses are adapting to the massive changes occurring in the aftermarket and how they're doing their best to reposition their operations to succeed in a new business climate.
On the topic of pricing, the panel's consensus tracked with that has been said throughout the parts channel over the past six months — the only consistency in pricing is its volatility.
The distributors said in the years before the pandemic, they typically only received one price increase per year from suppliers and it was typically a 2- to 4-point bump in first quarter. Now the distributors say they're receiving new pricing sheets almost weekly and often those increases are approaching or exceeding 10 percent. On average, the panelists say their supplier partners have released three to five increases since January 2021.
How are the distributors managing such substantial changes?  One day at a time, for the most part.
[RELATED: HDA Truck Pride partners with PhaseZero to launch e-commerce site]
Whitfield and Steward say before COVID he would often leverage his relationships with his suppliers to glean information about when increases could occur so he could fold them into his business planning for the year ahead. That doesn't work anymore. Whitfield says now he's regularly receiving updated pricing sheets with little to no notice or explanation, forcing him to regularly restructure his pricing on the fly. Corcoran is seeing the same.
Each distributor is trying to develop their own best practices to absorb the sudden changes.
Corcoran says his sales team has worked hard to identify lines and categories where margins were high and push those products to help withstand price increases on tighter lines. He's also extended his vendor base, adding secondary and tertiary partners for key lines where price (and product availability) is good.
At Crossroads, Whitfield has found kitting and bundling helpful, as adding multiple components into a single product enables him to pool all prices and neutralize the impact of an increase on any one part. "It gives you enough runway to adjust as other prices come in," he says.
The distributors also are trying to be as transparent as they can with their customers. These changes are coming from suppliers due to increased raw materials prices, rising freight rates, skyrocketing production costs, product availability and more. Distributors are not just rising prices because they want to or can. They are adapting to the market to remain competitive. For the most part the distributors say their customers seem to understand.
"Customers are buying on availability more than price right now," says Steward.
But even with those soft landings, the trio admit it is difficult to stand in front of a long-time customer and tell them a product they bought at one price in 2021 is 50 percent higher or more this spring. No one wants to be the bearer of bad news.
Friday's discussion also touched on hiring, and how recruitment practices that dominated in the aftermarket for decades are no longer working in a post-COVID world.
Today's job hunters have options, and they know it. Friday's panelists say they've dramatically raised their hiring wages to compete with distribution, retail, hospitality and other sectors. Starting salaries that would have generated 50 to 60 applicants for warehouse jobs three years ago net less than 10 in 2022.
And if you're able to bring in a talented prospect for an interview, the panelists say you better understand what they expect of your business. Job seekers don't just want a paycheck, they want to find a company that will value and appreciate them. That will offer benefits to support their families and flexibility to allow them to miss work from time to time when necessary.