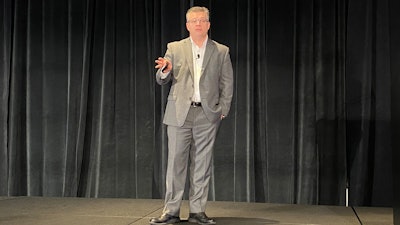 HDA Truck Pride reconvened its member and supplier bases for the second time in less than a year Wednesday when it kicked off its Annual Meeting in Orlando.
During Thursday's general session, the group leadership was thrilled to once again be back in person, taking another step toward returning to normalcy and after the exhausting COVID-dominated years of 2020 and 2021.
If only business conditions would do the same.
Focusing mainly on the global supply chain and inflation, HDA Truck Pride Chief Commercial Officer Clint Carter led most of Thursday's session. In opening, Carter joked after touching on early COVID-related supply chain challenges at last year's Annual Meeting in July he had hoped then that many of them would have cleared up before returning to the stage this week. He did not expect then things could get worse. Now he knows better.
During Thursday's market report, Carter cited Russia's war in Ukraine, zero-COVID policies in China and deglobalization efforts in many industries as factors that will continue to cause ongoing supply chain disruptions in the months and years to come. He says both of the former have forced the rest of the world to commit to the latter, which will take several years if not decades to execute.
He also acknowledged while some segments of the aftermarket supply chain have improved since last summer's meeting, production and fill rates remain well below industry norms overall. And with the current International Longshore and Warehouse Union contract set to expire on July 1, Carter says even if the supply chain does continue improving, there's no guarantee that dwindling port bottlenecks will do the same.
"We are moving toward a new normal," he said.
[RELATED: HDMA Pulse webinar considers addresses supply chain, inflationary pressures]
The good news is aftermarket parts demand is high. Many HDA Truck Pride member companies and supplier partners achieved all-time sales records in 2021, and many more have continued to set records in the first quarter. Inflation has undoubtedly helped boost sales gains, but HDA Truck Pride believes the records being set across the industry cannot be attributed to rising prices alone. Trucking has boomed throughout the economic recovery of the past two years.
Central pay purchases through HDA Truck Pride by member companies were up 18 percent in 2021 (and only slipped by 6 percent in 2020) and have risen by a 4.6 percent compound annual growth rate (CAGR) over the last five years, says President and CEO Tina Hubbard. The group also has added six members since the beginning of 2021 and is two members larger today than it was in 2018.
Hubbard also announced HDA Truck Pride's new board during Thursday's session. She thanked Dave Settles of Weldon Parts for 11 years of service as board chairman and welcomed new chair Ed Neeley of Truck Supply Co. of South Carolina. Other members are Tim Grabow (Blaine Brothers) as secretary, Greg Valant (Keystone Spring), Rich Calcagno (Potter Webster), Bill Betts (Betts Truck Parts & Service), and Michael Callison, Jr. (Midwest Wheel).
Other highlights from Thursday's session were presentations by George Arrants of ASE Education Foundation regarding trucking's recruiting pipeline, Corey Rodriguez on behalf of the Wyakin Foundation and the presentation of the 2022 Truck Service Expert (TSE) of the Year Award to Texas Trucks Direct.
Founded as a two-bay shop in Stephensville, Texas, in 1982, Texas Trucks Direct entered the parts business in 1988 and underwent a large facility expansion in 2006. The company joined HDA Truck Pride's TSE program in 2017. Today, the business has seven service bays, nine technicians, two mobile service vehicles and a continually expanding parts inventory.
President Jerry Cozby and vice presidents Christy Cozby and Guy Robertson were on hand to accept the award.