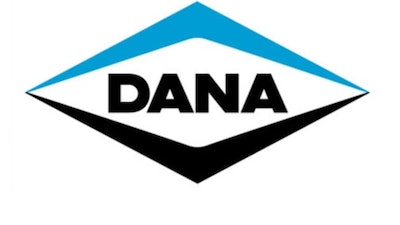 Dana Incorporated announced its financial results for the first quarter of 2022 on Wednesday.
The company says sales for the first quarter of 2022 totaled $2.48 billion, compared with $2.26 billion in the same period of 2021, representing a $217 million improvement. The company says the sales increase was driven by strong customer demand in its heavy-vehicle markets and the recovery of commodity costs and inflation.
"Dana saw continued sales growth in the first quarter despite record inflation, rising commodity costs, and ongoing global supply-chain disruptions," says James Kamsickas, Dana chairman and CEO. "As the entire mobility industry navigates soaring costs and geopolitical unrest that is greatly impacting the energy and transportation sectors, Dana continues to actively manage through these cost pressures as well as navigate through erratic and short notice customer demand changes.
He adds, "We continue to innovate and launch new products and deliver on our $400 million of new business sales backlog that is coming online this year."
Dana's adjusted EBITDA for the first quarter of 2022 was $170 million, compared with $234 million for the same period in 2021. Profit conversion on higher sales in the first quarter of 2022 was tempered by increased input costs and operational inefficiencies, primarily attributable to continued global supply-chain disruptions, the company says.
Operating cash flow in the first quarter of 2022 was a use of $121 million, compared with operating cash flow of $27 million in the same period of 2021. Free cash flow was a use of $237 million, compared with a use of $26 million in the first quarter of 2021. The higher free cash flow use in this year's first quarter was driven by lower earnings, higher working capital requirements, and elevated capital investment in support of awarded new business, the company adds.
"External factors continue to pressure our margins and free cash flow as rapid inflation of energy, services, and labor are further driving up costs," says Timothy Kraus, Dana senior vice president and chief financial officer. "While we see some improvement late this year, we anticipate these factors will remain a profit headwind. We have adjusted our financial targets to better reflect the conditions across the mobility markets and continue to aggressively work to mitigate the impact of these challenges and position ourselves to capitalize on strong end-market demand and low vehicle inventories once the global environment stabilizes."
Looking forward, the company states it has adjusted its 2022 financial targets for sales from $9.850 to $10.350 billion, and its EBITDA projection from $770 to $870 million.