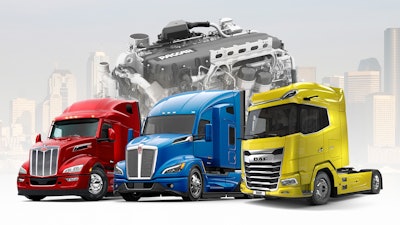 Paccar CEO Preston Feight announced Tuesday the company reported "excellent revenues and net income" for the first quarter of 2022, with consolidated net sales and revenues of $6.47 billion compared to $5.85 billion earned in the first quarter of 2021.
Paccar also achieved net income of $600.5 million ($1.72 per diluted share) in the first quarter of this year, a 28 percent increase compared to $470.8 million ($1.35 per diluted share) earned in the same period last year.
The company's Q1 success was led by Paccar Parts, which set quarterly records for revenues ($1.39 billion) and pretax profits ($340.2 million). Paccar Financial also had a quarterly record for pretax profits at $147.0 million.
"Paccar Parts achieved record quarterly sales and profits as its outstanding operational performance enhanced uptime for customers," says Feight. "Paccar Financial Services delivered record profitability due to excellent portfolio quality, strong new business volume and high used truck prices. I am very proud of our employees and their dedication to delivering the highest quality products and services to our customers."
Paccar says its Truck, Parts and Other gross margins were 13.4 percent for the quarter. Additionally, the company had research and development expenses of $78 million, capital investments of $113.5 million and cash flow operations of $459.3 million.
[RELATED: Kenworth plant initiates $45 million expansion with groundbreaking]
Paccar states its excellent long-term profits, strong balance sheet, and consistent focus on quality, technology and productivity have enabled the company to invest $7.3 billion in new and expanded facilities, innovative products and new technologies during the past decade. Capital expenditures are projected to be $425-$475 million and research and development expenses are estimated to be $350-$400 million this year, the company adds.
"Paccar's investments in vehicle, powertrain and technology initiatives are delivering increased profitability," says Feight. "Customer demand for Kenworth, Peterbilt and DAF's new heavy- and medium-truck models is very strong as customers benefit from the trucks' industry-leading fuel efficiency, reliability and driver comfort. The Paccar team is doing an excellent job of managing supply base variability and we are increasing build rates at our truck factories."