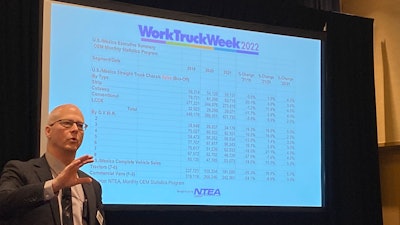 When Vladimir Putin sent his army into Ukraine last month, he didn't just launch the first attack on a sovereign nation on European soil since 1945. He also put the global economy's recovery from 2020's COVID-19 recession in jeopardy.
With global economic sanctions cutting off Russia's ability to export oil, gas and other raw materials, and ground fighting in Ukraine slowing its export capabilities, economists today are playing the waiting game. New year forecasts back in January predicted United States' GDP to approach 4 percent this year before normalizing back to pre-COVID historical norms of approximately 2.5 percent in the years ahead. Global predictions weren't as bullish but still anticipated a steady return to normalcy. NTEA's Steve Latin-Kasper says those numbers are still achievable. But every day the war in Ukraine continues, the likelihood those numbers are achieved trends downward.
Speaking at NTEA's Work Truck Show Tuesday, Latin-Kasper says economists want to maintain their optimism. Within the U.S. economy, specifically, many macro and microeconomic indicators remain strong. But what's happening in Ukraine has global ramifications. And every day it continues those ramifications become more impactful.
"We aren't predicting recession; but the probability of recession more than doubled in the last week alone," he says. "The next three to four weeks will probably tell that story. I wish I could tell you more about that with more certainty, but I can't."
Latin-Kasper says the war's impact on global economy is multi-faceted. Oil prices have skyrocketed from Russian sanctions, and Latin-Kasper says rising energy prices alone could be enough to restart a recession if they reach extreme highs. The war has other consequences too. Latin-Kasper says palladium — an essential raw material in catalytic converters — is overwhelmingly mined and exported from Russia. And neon gas, which powers lasers used in microchip production, overwhelmingly is sourced from Ukraine.
[RELATED: HDMA webinar addresses inflation, truck pricing]
"We are potentially looking at a second microchip crisis," he says.
This is unfortunate because many aspects of the U.S. economy have improved dramatically in the last year. Latin-Kasper says the U.S. economy has returned to full employment and American consumer spending remains strong in all sectors. Inflation is worrisome and is expected to continue, though hopefully it will slow. Latin-Kasper says the Federal Reserve will likely raise interest rates later this year to curb inflation. Additionally, housing starts are improving, steel and aluminum prices have peaked, and the supply chain continues to slowly but surely improve.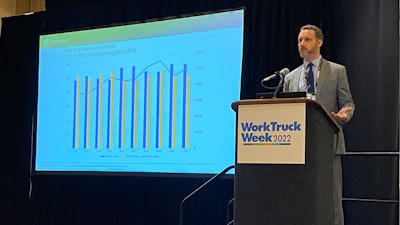 Early truck production forecasts for 2022 were strong as well, says Andrej Divis with IHS Markit. Divis says after 2020's dramatic downturn 2021 rebounded nicely across the Class 4-8 markets. The Class 6 market had the strongest bounce back, gaining market share from Class 7. Divis attributes that to the driver shortage. Fleets capable of ordering Class 6 or 7 models chose to accept the smaller trucks to avoid CDL requirements for new drivers.
Amongst brands, Divis says Ford remains the dominant player in the Class 4-5 space but trails Freightliner in overall Class 4-8 market share. He says International continued to regain market share in 2020 and 2021 after bottoming out early last decade. Mack and Volvo Trucks also netted gains, mostly driven by the new Mack medium-duty product line. Conversely, an extended production shutdown led to a market share dip for Hino in 2021, though Divis says the brand is likely to regain ground this year.
Divis also confirmed Latin-Kasper's concerns about the chip shortage, and the potential of economic downturn due to the Russia/Ukraine conflict. On the former, he says OEMs expect to continue battling the chip shortage well into 2023 and are making plans accordingly. For the latter, he says IHS Markit will release a special forecast in April that will account for the war and "we are revising our forecasts down."
"It's too soon to know how severe that crisis will be," he says. "Our economists still assume the U.S. is going to have a pretty good growth rate."