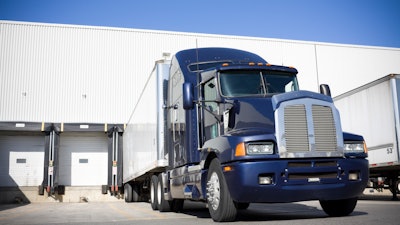 Market research indicates commercial vehicle supply chain performance is improving but structural issues within the channel appear likely to cap its productivity in the months ahead, Heavy Duty Manufacturers Association (HDMA) Senior Director of Market Research and Analysis Richard Anderson reported Wednesday during February's HDMA Pulse webinar.
Anderson says HDMA member polling indicates 'supplier ability to meet demand' currently stands at 84 percent for OE customers and 89 percent to the aftermarket. Looking ahead, he says HDMA members may achieve 90 percent in the latter half of the year but approaching 100 percent seems unlikely. There are simply too many foundational obstacles within the supply chain — some of which existed even pre-pandemic — that must be corrected to reach peak industry efficiency.
Raw material shortages continue to cause the most issues, but production labor and logistics also are slowing the fulfillment of products. And Anderson says while there are substantial challenges that must be addressed in each segment, business conditions are getting better.
HDMA member surveys indicate order fulfillment levels for metals, plastics, chemicals and non-electrical subcomponents have all risen in the past six months and are approaching or exceeding 90 percent. Fill rates for electrical subcomponents (such as semiconductors) also have risen by nearly 15 percent from last summer but still lag well beyond other categories at 76 percent. Anderson adds that sector is unlikely to reach the 90th percentile anytime soon, as semiconductor deliveries in the automotive and commercial vehicle markets remain well below pre-pandemic levels and are being further delayed as production facilities prioritize other industries.
"There isn't an easy answer to any of this," he says.
The story is similar in the labor and logistics spaces. Anderson says "the labor market has fundamentally changed" since COVID-19 hit and all industries are still dealing with the fallout. HDMA survey data indicates overall staffing levels in the commercial vehicle space are 91 percent of demand, with marketing (97 percent) and field sales teams (96 percent) most complete and production lines (88 percent) furthest from full capacity. That said, Anderson adds production staffing has improved by 10 percent in the last six months and, until COVID-19 recedes and new labor norms materialize, current employment levels may be the best the industry can hope for.
As for logistics, Anderson notes "there is no real solution because there are so many simultaneous points of constraint" from ports to rail yards to production facilities and everywhere in between.
HDMA members agree. During Wednesday's webinar Anderson asked all attendees to choose the issue that will have the greatest impact on commercial vehicle component suppliers' ability to meet demand. Electrical component availability took the top spot at 39 percent, but production labor availability (34 percent) and freight and logistics availability (26 percent) followed close behind.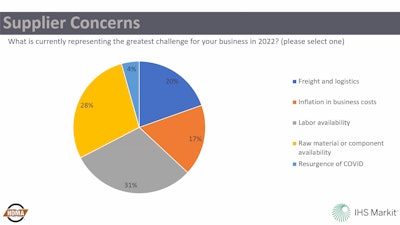 A previous HDMA member survey also pegged labor availability (31 percent) raw material or component availability (28 percent) and freight and logistics (20 percent) as top business concerns for 2022.
Anderson agreed with the consensus, or lack thereof, stating HDMA research indicates its possible "about 10 percent of demand will be unable to be met" for the remainder of the year.
Wednesday's webinar also included a forecasting segment from IHS Markit on battery electric and zero-emission vehicle (ZEV) adoption trajectories for the commercial vehicle space.
Like CALSTART last week, IHS Markit data indicates there's no doubt ZEV adoption is poised for a breakout. Continuing performance improvements and government regulations will continue to drive consumer demand. IHS Markit Senior Research Analyst Greg Genette says with ZEVs, the question these days isn't if they will penetrate the commercial vehicle space, but how quickly adoption rates will rise. Genette and 50 percent of Wednesday's webinar attendees believe costs associated with battery and fuel cell electric vehicles will be their biggest barrier to entry.