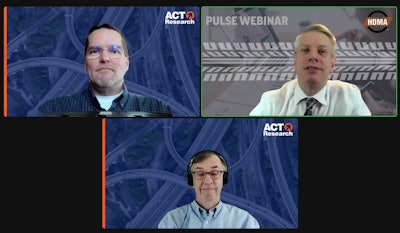 Inflation concerns and whether new truck pricing will ever normalize were discussed during Thursday's Heavy Duty Manufacturers Association (HDMA) Pulse Webinar.
The two top concerns according to HDMA's Pulse poll of its members, which are made up of the commercial vehicle supply market, are labor and inflation.
When suppliers were asked what is currently representing the greatest challenge for their business in 2022, 32 percent chose labor availability.
"There are known staffing constraints. The [data] at the overall operational level is actually down a little bit from what we reported in February and likely a reflection of some higher COVID rates in certain areas, particularly as we saw a drop in production staff," said Richard Anderson, senior director, Research & Analysis, HDMA.
But overall, staffing is at "very good numbers compared with what we have experienced previously. Obviously, there is some capacity missing. Six months from now we don't see any change, Anderson said.
Topping labor concerns at 36 percent of respondents is inflation.
"There are interesting changes happening. The 'freight and logistics concern' has gone down in the past month (7 percent), and we have seen inflation soar. This is the emerging concern," he said.
Russia's military buildup and eventual invasion of Ukraine represents a new element of risk and, reflecting that risk, the stock market has been quite volatile over the last six weeks. In addition, the price of oil reached $115 before settling back down to $110 as of midday Thursday — quite a departure from $65 in December, according to Jim Meil, principal, industry analysis, ACT Research.
"It's anybody's guess given the nature of uncertainties that fall out of armed conflict where oil prices could get to. Some analysts are talking about [prices] as high as $150. Higher energy prices are contributory to inflation. Consumer confidence is getting shaky. Interest rates are going up," Meil said.
The U.S. is facing the highest inflation in 40 years. "Yes, inflation goes up and down, but we've sort of settled in over the last 10 to 20 years of 2.1 percent average inflation. It's probably the biggest challenge outside of the risk of global war right now. 2.1 percent is the history, 7.5 percent is the track record on the consumer price index over the last year," he said.
Truck pricing, buying habits
During the webinar, Anderson posed a question to Steve Tam, vice president, analysis, ACT Research, about when inflation hits truck buyers and when do we see that inflation start to change truck buying habits.
"We are already seeing inflation in truck prices. As we roll through the 2021 timeframe, I think there were three, maybe four, rounds of surcharges implemented by the manufacturers, mostly around material or component costs," Tam said. Labor costs also played a part as manufacturers were having difficulty finding driveaway companies to deliver their trucks from the factory to customers, he added.
"If you take those in conjunction with the change we always see each year in price for new content for the model year changeover which, as you know is almost all but complete at this point, as well as another round of surcharges in 2022, you're looking at, I'll give a broad range, $10,000 to $15,000 price increase on a vanilla-spec'd Class 8 tractor sleeper and possibly even as much as $20,000 depending on trim and content. Plus, throw another 12 percent on top of that price increase for FET. There is dramatic price inflation in this marketplace. I'm not sure we're going to see new truck pricing come back down at all. Those surcharges may be permanent, quite honestly," Tam said.
As far as buying habits, "so far, we have not seen any impact of higher prices on demand. Fleets are willing to pay anything to get a truck; that's how desperate they are for the capacity," he added.
Tam acknowledged that was a blanket statement and that every fleet is different. "Those fleets that do have unseated trucks are peddling them in the secondary market right now because they can make a ton of money on the used equipment they have."