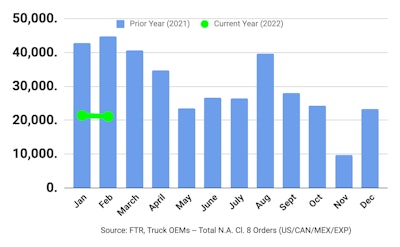 Preliminary Class 8 truck orders were nearly unchanged in February as truck OEM continue to constrain their order books to avoid extending their backlogs. ACT Research pegged the month at 21,000 units; FTR was 21,100 units. These totals were barely down from January, but were 53 percent below the same month last year, FTR reports.
"The steady order numbers do not reflect at all the huge demand for new trucks," says Don Ake, FTR vice president, commercial vehicles. "There is a severe shortage of new and used trucks and the economy continues to generate steady freight growth in all segments. Even with the recent stagnant booking volumes, orders for the last twelve months are at an impressive 320,000 units."
ACT says preliminary Classes 5-7 orders rose by 11 percent month over month to 18,300 units.
The firms both report OEMs continue to book fleet orders by portions as they lack confidence in their supply chains to improve enough to accept more orders.
"Constrained production capabilities and long backlogs continue to impede new order activity," says ACT Research President and Senior Analyst Kenny Vieth. "While order weakness is attributable to supply constraints, the ground rules of data collection play a part: The OEMs only report orders that are scheduled to be built within 12 months. With backlogs effectively stretching 12 months, and with limited forward visibility, order volumes have largely been mirroring production activity."
[RELATED: With costs on the rise, suppliers share how they're managing pricing sheet updates]
FTR adds backlogs should not change much this month since February order numbers are close to the forecasted production rate. The stability in the backlogs indicates the industry is content holding the number at the current level. Backlogs were very stable in 2021 and it is estimated that February backlogs will only be 4 percent higher than in April 2021, the company reports.
This is not a good sign for production as the year continues, Ake says. "By not booking more orders, OEMs are signaling that the supply chain remains clogged, and they don't anticipate being able to ramp up production in the next couple of months."
Comparatively, demand also remains unchanged. Fleets wants as many trucks and they can possibly acquire and will immediately increase order numbers once given approval from their OEMs.
Says Vieth, "As has been the case for months, we reiterate that with critical industry demand drivers at, or near, record levels, industry strength should be measured with long backlog lead-times, rather than in tepid new order activity."