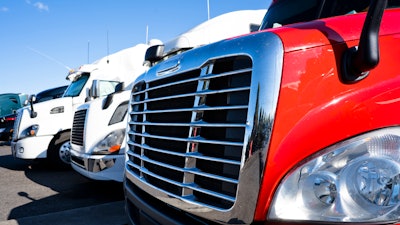 It seems hard to remember now but it wasn't that long ago when retail used truck prices were stagnant.
J.D. Power reported last winter in successive Commercial Truck Guidelines reports that average retail prices for used Class 8 sleepers fell month over month in December 2020 and January 2021, and 2020 on the whole saw retail sleeper prices down 19 percent from the prior year. COVID-19 ripped a whole through the used truck market in the second quarter of 2020 and though the industry had stabilized entering 2021 it had not fully rebounded.
In reporting those January 2021 numbers last February, J.D. Power predicted "mild to moderate price appreciation" would come for low-mileage trucks in the first half of 2021 before used truck supply would increase and prices would again relax.
The used truck market no longer appeared on the precipice of another pricing cliff, but it wasn't scaling up like gangbusters either. Or so we thought.
Rumblings about potential supply chain disruptions and slowed new vehicle production began in earnest a few weeks after J.D. Power released its February report, and by April 2021 the average used sleeper had shot up to $62,786. In its last market report three weeks ago, J.D. Power stated that average Class 8 sleeper retailed for an astonishing $90,398 in December 2021 — $41,748 more than 2020 despite being six months older.
The only thing higher than used truck prices these days is the ozone layer.
This pricing explosion has created an interesting predicament for used truck dealers, who are suddenly selling trucks at prices they've never seen to customers who have never paid so much. For those in the market every day, it's a dynamic they are still getting used to.
"When this started, there were groups of trucks that we passed on because we thought they were too much, and then a week later we'd see a similar group of trucks for $5,000 more," says Jeff Bowling, director of used trucks, Doggett Freightliner. "That's not something that used to happen."
[RELATED: J.D. Power says 2021 retail used truck pricing highest 'in the modern era']
"What's happening now is unprecedented. I've never seen an upturn anywhere near what it is right now," adds Jim Beaty, TNTX corporate used truck director
The good news for dealers is customers have adapted surprisingly well. With record-high freight rates and so many loads available, most truck buyers realize the earning potential of another truck outpaces the additional cost necessary to acquire one.
"The customers buying trucks today think of their equipment as a tool, not a luxury item," says David Waye, SelecTrucks center manager, TNTX. "They see how high freight rates are and know another truck is an opportunity to make more money for their business."
And dealers say it's been that way for months, as buyers learned quickly last spring there would be no waiting out this ongoing price appreciation phase.
"I think once you call six or seven dealers and get the same price [on a truck] you start to understand the situation is unique," says Jim Zimmerman, corporate used truck manager, Kenworth of Pennsylvania. "After you go through that, when you finally find the truck you want, you'll pay about anything."
"Amazingly, I think most customers get it. We've seen very few customers hesitant to buy right now due to the inflated truck values," adds Cindy Campbell, vice president, used truck sales and finance, JX Enterprises. "Most [customers] seem focused on having as much equipment running as they possible so they can make more money."
But the freight market alone can't be credited for the speed at which used truck buyers have adapted to such dramatic price increases. Banks have stepped up too.
Mike Roney, corporate buyer and wholesale manager, Premier Truck Group, says his finance partners were quick to act last year when prices began to rise, altering their loan packages to accommodate the market and ensure sticker prices wouldn't prohibit capable buyers from acquiring equipment.
"Most of our owner-operator customers could never afford these prices and never would have paid what they're paying now," he says. "But lenders saw what was happening and adapted for customers who can absorb these prices."
[RELATED: How to get credit-challenged customers financed]
"They've really stepped up to the plate," Zimmerman says of his lenders. "If a customer's credit score is decent, they're running a clean business and have freight on the books, the banks are coming through for them."
Yet that willingness to approve larger loans doesn't mean used truck lenders have become reckless. Most finance companies are extending payment timelines and requesting or requiring borrowers to increase their down payment to reduce default potential.
"Some lenders are asking for 20 percent or more [down], though if a customer is smart, he's likely doing that anyway," says Beaty.
Additionally, dealers note some finance companies have recently started to scale down their loan acceptance rates, signaling retail prices may be nearing the peak of what lenders will bear. Used truck demand will assuredly outpace supply through 2022 but, for many buyers, price can only rise as high as their lender will support.
"We've started seeing that in the last month. Banks tightening up a bit. And that has to happen if pricing is ever going to stabilize," says Nacarato Truck Center Director of Pre-Owned Equipment Jason Cluck. "Someone has to say enough is enough."
Roney agrees. "I don't think lenders are fearful now, but I don't know how long they'll tolerate prices continuing to rise like this."
The ongoing inventory crunch that created today's pricing boom also has upended conventional retail sales interactions. Some buyers have become so desperate for trucks that they're showing up at dealer facilities with cash in hand ready to buy any truck available that fits their specifications. Others have taken to scouring the internet, calling any dealer who claims to have the model they require and buying from the first dealer who picks up the phone. Tire kicking is dead — at least for now.
"It is amazing how many guys walk in off the street ready to put $30,000 to $50,000 down," says Cluck. "Some we've never met before."
Zimmerman agrees and references a customer who recently walked into Kenworth of Pennsylvania store looking for a day cab with an automated manual transmission. Zimmerman said the dealership had just taken possession of one and had it in the service shop for an inspection. "We walked out and looked it then he asked what I wanted for it. I told him. He asked to put a down payment on it right then."
"It's never been easier to make a sale — if you have the trucks," Roney says.
Unfortunately, such unprecedented demand is proving to be a double-edged sword for dealers who suddenly find themselves with more customers than they can serve. Sales may come easy but maintaining used truck inventory levels has never been harder. Everyone is fishing for equipment from the same exhausted pool.
Campbell says JX Enterprises used to rely on its 1,000-truck leasing fleet to supply its used truck business "but those trucks are not coming in anymore," forcing the company to pivot and rely more on fleet customers near the end of their trade cycle and national wholesale partners. Regarding the latter, Campbell says her team has even acquired wholesale packages at higher than market prices a few times to sustain positive relationships and maintain a strong inventory.
[RELATED: Not doing your homework on trade-in values can cost you]
"We bought 149 trucks in 2020. Last year we bought almost 600," she says.
Bowling says strong fleet relationships have provided Doggett a chance at several vital trade packages despite other competitors.
"We're very fortunate that we have longstanding relationships with so many customers and we've proven ourselves over time," he says. "When wholesalers do approach them, they are calling us first before they do something."
And looking ahead, dealers anticipate the market's inventory crunch is unlikely to abate anytime soon.
"I do not see us being able to catch up with demand for at least two years," says Roney, who references not only OEM production challenges and the economy but also previous production cycle sizes and impending EPA emission regulations pre-buys for 2023 and 2024 as major factors. Many new truck buyers ordered what trucks they needed this year but many of those orders were substantially cut back by the OEMs due to their factories being unable to produce that many power units.
"With new truck owners light on power units to fulfill their contracts, the anticipated influx of trades coming into the used market will be minimal," he says.
Adds Waye, "Two years ago we were matching down payments just to get customers into trucks. Now they're walking in with $20,000 in hand and taking a note on a truck for 24 months … I think we're all looking for that dip, but I don't think we can expect it anytime soon."