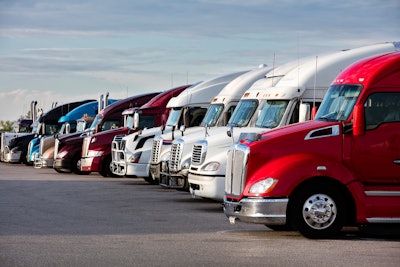 Used truck pricing was strong across all channels once again in April, posting similar prices to March and substantially higher than the same point last year, J.D. Power reported Tuesday in its May 2021 Commercial Truck Guidelines industry report.
Pricing in the auction channel was down 12.2 percent month over month in J.D. Power's benchmark model for April, though the company says that slip has more to do with the trucks within the model this month than any market fluctuations. Within the benchmark model, pricing was as follows:
Model year (MY) 2018: $57,115 average; $12,441 (17.9 percent) lower than March
MY 2017: $47,520 average; $10,229 (17.7 percent) lower than March
MY 2016: $43,595 average; $2,956 (7.3 percent) higher than March
MY 2015: $37,269 average; $10,077 (37.1 percent) higher than March
MY 2014: $25,458 average; $1,888 (2.0 percent) higher than March
J.D. Power says pricing for trucks with less than 600,000 miles is "in the stratosphere."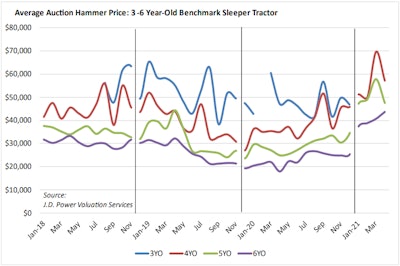 "Compared to the first four months of 2020, this group is running an amazing 76.6 percent ahead. We don't see much relaxation in pricing for trucks with average to low mileage for at least another two months," the company adds.
The retail market was even stronger. Every age segment for 2- to 6-year-old trucks was up month over month. J.D. Power says the average sleeper tractor retailed in April was 68 months old, had 432.099 miles, and brought $62,786. Compared to March, this average sleeper was identical in age, had 25,779 (5.6 percent) fewer miles, and brought $5,238 (9.1 percent) more money. Compared to April 2020, this average sleeper was seven months older, had 34,740 (7.4 percent) more miles, and brought $20,514 (48.5 percent) more money. Month-over-month, late-model trucks brought 2.5 percent more money.
[RELATED: Registration opens for 2021 UTA Convention]
In the first four months of 2021, J.D. Power says late-model trucks are running 12.4 percent ahead of the same period of 2020. This is to be expected, retail pricing has been on the rise since the fourth quarter of last year, but those increases have been more gradual than in the auction channel. On average, J.D. Power says "Pricing is still similar to the last market peak in early 2019. In the short term, pricing will continue to increase, and we might see historically-high retail pricing before conditions start to relax."
Sales per rooftop were down slightly (0.3 trucks) in April, primarily due to a lack of inventory. Dealers sold 5.6 trucks per rooftop for the month, 1.7 trucks more than the same period last year.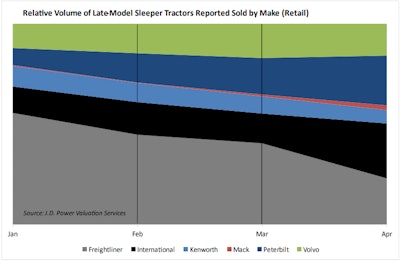 "It is likely these figures would be higher if dealers had a larger selection of trucks to sell," J.D. Power says. "Still, these results are on par with historically normal periods, and we expect dealership traffic to remain solid into the third quarter."
In the medium-duty space, Class 3-4 cabovers and Class 4 conventional pricing was up slightly; Class 6 conventional pricing leapt forward by nearly 8 percent. For cabovers, April's average J.D. Power's benchmark group was $21,020, $946 (4.7 percent) higher than March, and $5,876 (38.8 percent) higher than April 2020. For Class 4 conventionals, average pricing was $26,723, $1,010 (3.9 percent) higher than March, and $6,460 (31.9 percent) higher than April 2020. In the Class 6 space, April pricing averaged $27,702 in April, $1,993 (7.8 percent) higher than March, and $5,904 (27.1 percent) higher than April 2020.
In forecasting the months ahead, J.D. Power remains confident the used market will remain hot through Q2 before meeting any serious headwinds.
"On the freight front, we're assuming consumer spending on goods has some expansion left, as we're just now reaching where we left off pre-COVID," the company says. "Major tailwinds for freight include stimulus benefits (for now), improving employment, the shift to permanent work-from-home, changing residential patterns, and inventory bottlenecks. The main headwinds will be the cessation of benefits, inflation, and an incremental shift in spending from goods to services.
"On the supply side, firms that track the number of trucks available to move freight show a very small increase as 2021 progresses. Looking at used trucks, we see a mild to moderate increase in supply of off-trade units starting sometime in the third quarter, assuming new truck production constraints gradually improve."
The company says when the status quo begins to change in Q3, it could change faster for the used market than other segments of the industry (such as new trucks and freight). "Most analysts do not predict any drastic economic changes. However, the used truck market usually shifts more rapidly and drastically than the general macroeconomy, as anyone who has observed a few boom and bust cycles will attest. So watch the auctions for an uptick in off-lease units," the company states.
For more information, and to read the entirety of this month's report, please CLICK HERE.