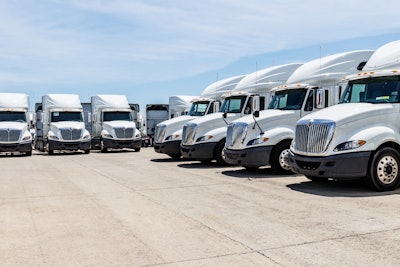 Used Class 8 truck same dealer sales prices were up 9 percent in April but volume fell by 3 percent as dealers continue to search for inventory to capitalize on an impressively strong market, ACT Research reported Wednesday in its State of the Industry: U.S. Classes 3-8 Used Trucks report.
Average miles and average age of used trucks sold in April were down 2 percent from March and 6 percent from April 2020.
ACT Vice President Steve Tam says sales volumes regardless fall in April due to market seasonality. What makes this year's drop unusual was its slowed rate of 3 percent. "While the contraction was expected, it was smaller than anticipated," he says, noting sales typically pull back about 10 percent in April.
[RELATED: J.D. Power: Used market 'rocks and rolls' during strong April]
"Used truck inventory, as best as we are able to piece together, remained stable in April," he says.
Channel results were oddly mixed for the month, Tam says. Auctions grew in the near term and year over year but lagged in year to date analysis. Wholesale transactions followed the same pattern, which they also experienced in March. Tam added sequential softness came from the retail market, which also bolstered broader longer-term gains.
"At the risk of sounding redundant, the catalysts for current market performance are essentially unchanged. Continued strong freight growth and driver-constrained freight hauling capacity have driven both spot and contract freight rates to new record highs. In turn, improved trucker profitability is a catalyst for increased demand for both new and used trucks," he says.