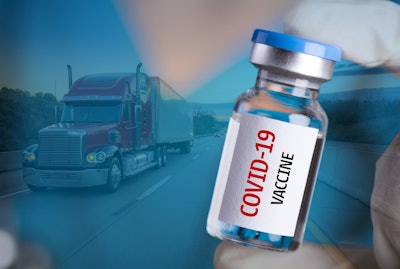 COVID-19 metrics are improving and some suppliers are reporting less of an impact on their current business plans caused by parts shortages, according to the Heavy Duty Manufacturers Association's (HDMA) preliminary May results from its Pulse Survey of its members.
"The severity and potential duration of the supply disruptions has yet to show any significant impact. All the difficulties … reported by our members have yet to affect their business plans. They haven't changed since April and very little even since March," Richard Anderson, HDMA director, market research and analysis, said during HDMA's webinar held Wednesday.
That said, raw material and semi-finished goods procurement remains the top concern for suppliers (40 percent), with labor issues continuing to rise even as COVID-19 infection rates fell and a vaccination rate exceeding 40 percent, according to the survey.
Other supplier concerns include labor readiness and availability (26 percent), accuracy of production and demand forecasts (20 percent) and inbound/outbound shipper availability and cost, the Pulse Survey indicates.
"We're seeing a lot of pressure in the labor market. Obviously this is secondary to the issue of getting goods in the door and getting goods out the door. But it is something that is rising relatively quickly," Anderson said.
Regarding shipping delays, the survey asked, "What percent of your inbound/outbound materials and semi-finished goods are delayed beyond the usual amount?"
In May, 100 percent of respondents reported inbound delays, compared with 97 percent in April. Nearly 95 percent reported outbound delays in May, compared with 89 percent. Inbound shipping delays of raw materials and semi-finished materials is improving at 13.22 days delay, compared with 13.86 days in April. Respondents reported outbound delays of finished products in May was 4.79 days, compared with 7.62 days during the previous month.
The Pulse Survey also asked, "Given your supply chain constraints and any additional internal constraints such as staffing and capacity, rate your own company's ability to fulfill orders over the course of the month?" Respondents reported 85 percent for OE production and 82 percent for aftermarket production.
Anderson also addressed the latest data related to the COVID-19 pandemic. "I'm going to finish up with a look at the operations of suppliers. COVID infection rates are [seeing] large decreases which follows the national trend. We should be very happy to see this," he said.
The survey asked respondents what is the level of COVID infections across all North American staff compared with this time last month. Fifty percent reported it was a "large decrease" in the infection level. Reporting a "small decrease" and "about the same" were 22 percent of HDMA members. The survey also indicates 6 percent of respondents said they had a "small increase" and nobody reported a "large increase."
"And then we're looking at absentee rates have been trending slightly downward. It seems to have stabilized at this point. We need to keep track of this number because when it moves, it tends to move rather quickly," Anderson said.
On average, 5.6 percent was the response for absentee rates in May. It decreased from 5.8 in April. March's average absentee rates were 4.9 percent and February's average was 6.1 percent.
"We didn't see a big move in the vaccination rates of staff as we did from March to April. The number crested at approximately 40 percent but we do expect this number to continue to rise. The real question is what impact will it have on the ability of suppliers to hire the staff they need."
Anderson added, "It is clear, the volatility is here, but in terms of the overall experience, April and May are almost indistinguishable within our data."