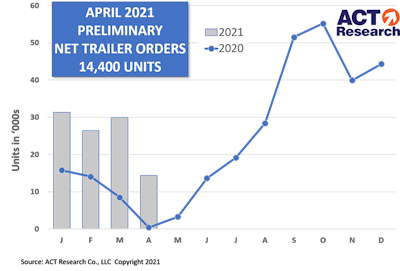 The new trailer order market has come back to earth. After growing for six consecutive months in the latter half of 2020 and averaging nearly 30,000 units during the first quarter of 2021, preliminary trailer orders fell to 14,400 units in April, ACT Research reported last week.
ACT says that number was 52 percent lower than March, but also 3,600 percent above last April, which was one of the industry's worst months on record.
ACT's Frank Maly, director, commercial vehicle transportation analysis and research, says year to date order volume is just over 102,000 units, which provides the market "a better metric that indicates fleet equipment demand remains strong."
Looking ahead, Maly says strong fleet commitments are pushing the average backlog for dry vans and reefers into the second quarter of 2022 at recent production rates and are generating headwinds to further order placement "Perhaps that should be better phrased as 'further order acceptance,' since some OEMs have indicated they are not accepting orders until longer-term component and materials supplies and pricing can be determined," he says.
Maly notes there also appears to have been a bit of an upturn in cancellations during April.
"Some revisiting of pricing, the result of component and material cost pressures, along with some reassessment by fleets regarding projected delivery dates and their actual equipment needs, were likely both contributors to those adjustments. Finally, OEMs continue to struggle to increase production rates, with components, materials, and staffing still challenging their efforts," he says.