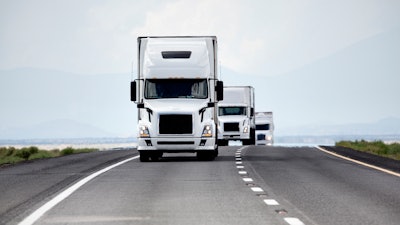 There's an interesting buyer's dilemma pushing its way to the forefront of the used truck market. I noticed it while researching Tuesday's piece on the meteoric rise of retail used truck prices in 2021.
Customers don't care about maintenance anymore.
Eh, that's not fair. It's not that they don't care. It's that right now it's no longer their No. 1 priority.
With the freight market so hot and so many high-dollar loads available, carriers across North America are desperate for trucks. These businesses are seeing the flashing dollar signs. They know more trucks on the road means more revenue and with no new truck availability to speak of everyone is jumping into the used truck pool trying to get their hands on as many good trucks as possible.
This has been great for used truck dealers for many obvious reasons. Macroeconomically, when supply is this low and demand is this high, price leaps forward. We know that's happening because we're seeing in the market each day and in the market reports each month. Beyond that, there's also an ease to the dealer sales process these days. With so many customers out there and so few units to move, dealers don't have to fight with hagglers, tire kickers and wishy-washy potential buyers that bring more headaches than profit. One customer turning down a truck doesn't mean much when another customer is going to come in and buy it the next day.
But this extreme customer demand also is leading to some negligence or inattentiveness on the part of some buyers. Because so many used truck purchasers are racing to fill a contract or grab a load at an insane profit, some also are grabbing trucks and putting them right into service — overlooking regular maintenance inspections and due diligence service procedures that would occur in normal purchasing environment.
[RELATED: Industry status report: Dealers optimistic after withstanding recent challenges]
I'm talking about customers buying trucks sight unseen, putting money down on trucks before dealers give them a once over. Customers winning as-is trucks at auction, getting them registered and then driving right to a freight yard.
Now, for the record, I am not against as-is buying. Not in the least. I think as-is selling is an essential part of the used truck space and when it occurs between trusted dealer/customer partnerships it can be beneficial for both parties. I also don't want anyone to think a customer buying a truck that hasn't undergone a comprehensive maintenance inspection is doomed. We know that's not the case. Not all trucks are alike; nor are all customers. Some trucks can go years without a major service event while some buyers (typically medium- or larger-sized fleets) have the service capabilities to withstand a recently acquired used truck immediately breaking down.
But for the little guys, the owner-operators and mom-and-pop fleets who have long dominated the used truck space, making a questionable decision on a recently acquired $100,000 used truck could be a business killer.
And these days I think it's the responsibility of used truck dealers to make that clear to customers.
[RELATED: How stratospheric prices are altering the retail used truck market]
The dealers I spoke with over the last month are doing that and continue to prioritize service in their businesses to ensure positive customer experiences. My contacts are still running as many trucks as they can through their inspection and reconditioning programs upon receiving and trucks under factory warranty are receiving all required maintenance. Customers interested in older trucks that have aged out of warranty are being presented with service recommendations and offered an extended aftermarket warranty. Like the trucks themselves, the latter have never been easier to sell.
"We are selling more aftermarket warranties than we ever have. These days it's kind of a no brainer," says Cindy Campbell, vice president, used truck sales and finance, JX Enterprises.
Gap insurance also has become an essential add on, says Jason Cluck, director of pre-owned equipment, Nacarato Truck Center. "Especially for these individuals where it is their first purchase in this environment. The financial commitment is a lot different than they are used to."
But these products, valuable as they are, remain no substitute for good old-fashioned preventive maintenance. They help cover service expenses, but they don't make up for lost revenue due to unscheduled downtime. How much maintenance a customer chooses to do is ultimately their choice, but dealers should fell an obligation to be consultative and supportive during sales.
Dealers I've spoken with recently said, if anything, they've increased their messaging around service and maintenance during and after a used truck sale. No one wants a customer to immediately break down, nor do they want a customer to negatively perceive a sales interaction after the fact.
It's best for everyone to recognize the importance of maintenance upfront, even if expedience in getting a truck on the highway is customer's top priority at signing.