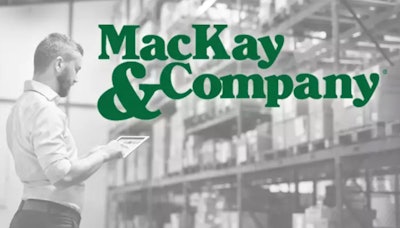 Hard to believe it is December already. I won't say this year flew by, but it did pick up in pace quite a bit in the second half in large part because much of the country was getting back to normal and we all apparently wanted to buy stuff, lots of stuff, and that has kept everybody busy.
My concern today is this pace may get damped by the new COVID variant; but as I have learned over the past 20-plus months, I will likely change my mind tomorrow.
I have noticed that some TV networks don't say the name of criminals that commit hideous crimes so as not to give them any added attention they may seek. I am taking the same tack with COVID variants in the hope that they will cease and desist. I will give omicron a break because it doesn't seem to be as bad as other variants. If it becomes worse, I will ban all mention of it. Unfortunately, I think this will be as effective as the COVID policies we have in place in Illinois.
MacKay & Company started the year looking at a positive outlook for the aftermarket. Certainly, 2020 was not a good year, but it bounced back strong in the second half, and in January we estimated 2020 was down just over 9 percent compared with 2019. That was good compared to what some of the most negative outlooks were in April and May of 2020.
We knew vaccines were coming in early 2021, and I think that helped with the positive outlook. Our initial forecast for 2021 was for the aftermarket to be up almost 12 percent compared with 2020, basically back to about 2019 levels.
Vaccines not only arrived but they arrived early and by summertime pretty much everybody who wanted a vaccine could get one. All this good news helped stoke an already strong demand for everything, which in turn made it difficult for supply chains to get used to this new normal. Vehicle manufacturers, dealers, distributors and fleets have been dealing with shortages, price increases, labor shortages and a continuing extended forecast as to when these issues will end.
[RELATED: What will it take for fleets to invest in battery-electric, hydrogen vehicles?]
I wish I wrote down all the examples of the crazy stuff going on this year, but here are a few quick examples. A fleet selling three-year-old trailers for more than what it cost them to buy new. A vehicle manufacturer agreeing to buy product at an unknown price, that won't be delivered for many months beyond historic delivery times. A mobile service provider needing to redesign its mobile service vehicles for a Class 3 chassis vehicle because the provider was told they didn't know when they would get the Class 5 vehicles it wanted.
Despite this, truck dealers and independent parts distributors have reported higher parts sales every month year to date compared with last year and our aftermarket index of component manufacturers is also up year to date over 15 percent.
What about 2022?
At this point it has not been canceled, I just checked online. Inflation is a concern, COVID is never going away and how we deal with that is a concern. Double and triple ordering of products by manufacturers, distributors and retailers in all industries might also have an ugly outcome at some point in 2022. On the positive side, all the various forms of stimulus put into the market and savings people accumulated by not doing much during the pandemic is looking to land and there also is a small percentage of money in the infrastructure bill is for actual infrastructure projects that could start to hit in 2022.
Our most recent forecast, which will next be updated for Heavy Duty Aftermarket Dialogue (HDAD) in January (sign up here!), has the aftermarket up more than 17 percent for 2021 over 2020 at $35.4 billion and up 7 percent in 2022. Considering inflation has not been transitory, the forecast may be light with the price impact.
Happy New Year!