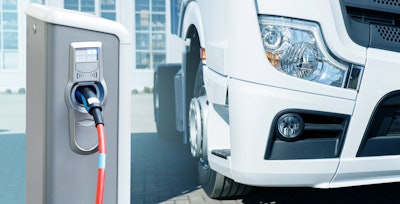 While at ATA's Technology & Maintenance Council (TMC) Fall Meeting in Cleveland last week I wrote a pair of articles on electric vehicles (EVs). More specifically, on preparing for EVs.
EV market share is growing rapidly in the auto space but in our world these specialty vehicles are still extremely rare. Most of them are found in California, where state emission regulations are the most stringent and charging infrastructure is the most advanced. There are also small pockets of EV growth in major metro areas — municipalities and regional carriers trying out the newest technology to see if it works for them — but if you look at our sister publication CCJ's Top 250 Fleets, very few have invested in or are heavily reliant on EVs.
Everyone tells us that's going to change.
TMC's focus was on the future because OEMs and carriers alike believe EV adoption will be essential for the trucking industry in the years ahead. The industry's earliest adopters are working on the particulars now (duty cycles, optimal battery investment and ranges, charging strategies) and at TMC many were on hand to share what they've learned.
Class 8 linehaul trucks may not be electric for a long time, but yard trucks? Those could be electric now. Same for delivery box trucks and lighter weight regional hauls with short routes and evening terminal returns. All those duty cycles tested EVs during the North American Council for Freight Efficiency (NACFE) Run on Less event this month and results were positive. In releasing its findings, NACFE estimated the four segments featured in the event encompass 5.2 million vehicles, but that the segments could be gateways to more opportunities in longer regional haul and long-haul trucking.
[RELATED: TMC experts share guidance on preparing a facility for EV service]
"It's clear from the data collected during the Run that it is time for fleets to go electric in certain market segments, including the van/step van, medium-duty box truck, terminal tractor and short heavy tractor regional delivery segments," said Mike Roeth, NACFE's executive director.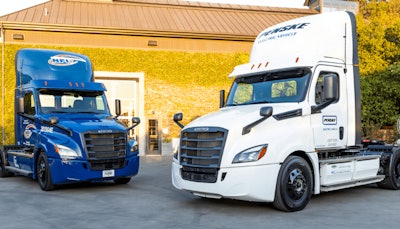 The big question then is when? When will EV ordering move from isolated fringe test orders to full-scale adoption. TMC offered many possible timelines:
2024: When the next round of EPA fuel economy and greenhouse gas standards hit diesel engines.
2030: When 15 states and Washington D.C. hope to achieve 30 percent zero emission vehicle (ZEV) sales.
2045: When California will require all new vehicles sold in the state to be ZEVs.
Never: Trucking has run on diesel for a century. Why stop now when the engines have become so clean?
I think there are quite a few people in our industry rooting for that last one. I get that. EV adoption will require a major investment for everyone — even dealers and businesses who won't own a single chargeable truck. New heavy-duty diesel engines running renewable diesel and biodiesel also are staggeringly clean from an emissions perspective. But I don't think that's going to stop EV adoption.
And, according to a July survey by Trucks, Parts, Service of 18 truck dealers, it appears dealers feel the same. Though only two of our 18 surveyed dealers have sold an EV to date, 14 of the remaining 16 intend to sell EVs at some point in the future. Half of our dealer responders also expect EV adoption to surpass 25 percent of new vehicle sales between 2030 and 2040.
At this point, eight of our 18 dealers rank vehicle performance limitations as the biggest barrier to entry for EVs in the heavy-duty trucking space. Acquisition cost and charging infrastructure tied for the second largest barrier (4 responders each). The NACFE Run on Less data from this week would seem to be good step toward solving that first concern, and costs also are likely to come down (or normalize against diesel trucks) as production rates increase and governments make more grant money available to spur EV acceptance. 
[RELATED: TMC task force racing to develop guidance for electric trucks]
Even if you're in the 'Never' camp on EV adoption becoming common in our industry — and five of our 18 dealer responders were — it still seems like good business to at least keep an eye on this technology as it continues to evolve in the field. Major adoption in 2024 is unlikely but 2030 to 2040 seems legit. And the front half of that decade isn't as far away as you might think, especially when you consider model year 2030 trucks will be ordered throughout 2029.
Only four of our survey responders said they had invested in EV infrastructure to date, but two of those four had spent more than $50,000 this year, alone, on outfitting their locations. Imagine an entire dealer network? There's no cheap option when prepping for EVs. State and federal grants are out there but you must find them (TMC tip: Your utility might be able to help). And they aren't going to cover everything.
Experts say retrofitting an existing service facility for EV maintenance and charging takes 18 to 36 months — and that's if you're focused and committed. Could be longer if you drag your feet.
Dealers, I'm not trying to alarm you. I just want you to know the reality. If you wait until EVs start hitting the highways, you'll be too late.