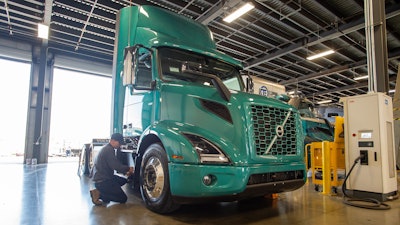 They say the future is electric. But who's going to pay to make that a reality?
I don't know how to tell you this — the answer isn't just truck owners. Yes, the nation's early adopters are going to shoulder quite a bit of expense for the first medium- and heavy-duty electric trucks on North American highways. But getting those trucks on the road takes more than just a sale. It also requires infrastructure to support those trucks when they unfortunately (but inevitably) require service. And that's where your pocketbook comes in.
Truck dealers are going to be expected, nay, required to invest in electric vehicle (EV) infrastructure, tooling and technician training to service EVs once they hit the roads in greater numbers. And while it feels like that might not happen for a while, this week's ATA Technology & Maintenance Council (TMC) Fall Meeting was heavy with EV technical sessions and conversation. OEMs and their suppliers are committed to EVs and are working hard to make the technology scalable and affordable.
With governmental pressure (and financial incentive) pushing them forward, many experts at TMC indicated they see EVs becoming a recognizable portion of America's commercial trucking fleet by the end of the decade. Use cases and optimal duty cycles are being identified; battery technology is improving rapidly.
These vehicles are coming.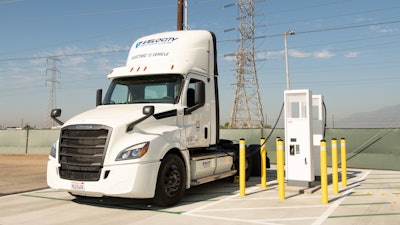 What that means for dealers is the clock is ticking. Those interested in servicing EVs (or located in regions where EV adoption is likely and being encouraged); now is the time to start learning about EV infrastructure and what will be expected of your business to serve these customers. It might be four or five years before a fleet customer comes to you and asks to buy an electric truck. But if you want to sell him one, you must be ready to service it on day one.
TMC experts said that should start with a call to your utility company.
"They're your new fuel," said Sean Yentsch with Penske Transportation Solutions. "You need to know if they can serve you."
[RELATED: TMC task force building RP for electric vehicle tech training]
Yentsch and other TMC experts said your initial call to your utility company will go a long way toward how your business evolves to serve EVs. The power outlets in your business don't remotely have the power necessary to operate a heavy-duty battery electric vehicle charger, he said, which means facilities must be retrofitted and power connections from the street must be enhanced, if possible. If the power on your street isn't sufficient, dealers and their utility company must work together to determine the next best course of action — improve the capabilities on the block or move the dealer facility to a location where more power is available.
Ken Marko with PepsiCo said his business prioritizes locations it owns to determine where it wants to invest in EV charging. He said at least by doing that, the company doesn't have to get approval from a landlord, nor does it risk losing its charging investment if its location is forced to move.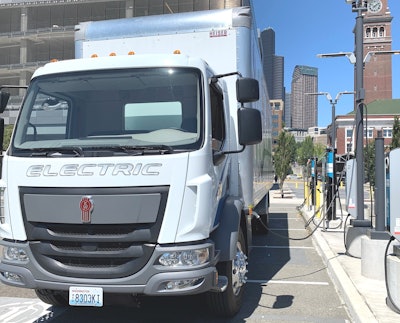 Why does this matter to dealers? Experts said because even if you don't intend to have an on-site charging station for customers, you still need shop chargers to power and move equipment within your facility. A truck that comes in with little range left could die in your bay (as could a battery stored in your warehouse). And there is no fuel can shortcut to solve that.
Yentsch said once you've developed a relationship with your utility, you'll need to decide what type of chargers you want. Dealers may not require the expansive outdoor charging stations Penske and PepsiCo are using, but even smaller portable shop chargers require more power than your wall outlets provide. TMC experts said Level 2 chargers (which use AC power) may work at venues where longer dwell times are common. Where speed is essential, Level 3 DC fast chargers are likely the right option.
ChargePoint's Steve Weiner also recommended a "smart" charger that provides real-time charging information, so technicians don't need to stand by and constantly monitor a vehicle charger.
[RELATED: WattEV to break ground on solar-powered 'electric truck stop']
Charging station development is another factor to consider. Weiner said charger manufacturers can offer guidance on application and site design, and utilities also may have an opinion or requirement depending on site structure.
Beware, charging infrastructure is not cheap. Outdoor stations are higher priced than smaller portable units, but even the latter requires investment in electrical infrastructure from the street. Yentsch recommended inquiring about financial support from a utility or charger provider, who oftentimes will know if government grants are available.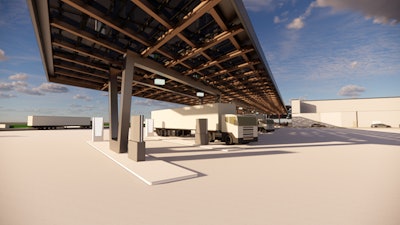 The next step on the EV prep checklist is technician training and tooling as well as site updates. TMC experts said these can begin while still in discussion with utilities and charging providers.
Experts said EV service should be completed in dedicated service bays with specialized tools, highly trained technicians and clear signage to distinguish the unique work within a mixed service shop. Volvo Trucks North America's Ray Hastings said EVs are not going to require as much service as their diesel counterparts but some of the work will be more dangerous. He said Volvo is developing advanced online and in-person training it will require of all technicians who will perform EV service.
Volvo has two certified EV dealerships to date, and Hastings said as more EVs find their way into the industry, the OEM is working with other dealers to expand its certified service network. He anticipates other OEMs will take a similar approach, noting it is unlikely independent service providers or fleets will have the authority to work on EVs for a long time.
"Safety is such a huge thing with these trucks," he said.
TMC's expert panels Tuesday said they do believe it is possible for dealers to begin and complete the process of outfitting a facility for EV service ahead of the new technology's wider acceptance in the industry. But it's not a short process — 18 to 36 months seems to be a reasonable rollout time.
Which is why Yentsch advised anyone planning to be part of the EV trucking industry to begin planning today. "The infrastructure far outweighs truck orders in terms of complexity," he said.