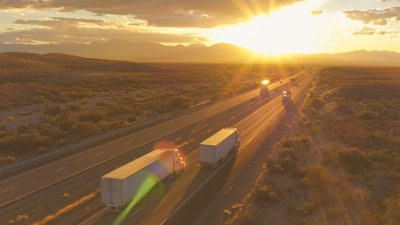 After two years no one could have planned for, let alone predicted or imagined, the trucking industry hopes to find some sense of normalcy in 2022.
It won't be easy — several substantial obstacles remain at the forefront of the market — but after the arduous journey that was 2020 and its follow up in 2021, there is finally confidence in the dealer and independent aftermarket channels again. Business has been strong of late and with the new year comes renewed optimism that the worse days of the pandemic and its myriad issues are behind us.
Among dealers and their OEM partners, 2022 offers the potential to capitalize on a strengthening market while using new skills developed during the pandemic to withstand and overcome continuing challenges.
"The business environment prior to the COVID-19 pandemic was different than the environment we are facing today," says Navistar's Paul Martin, vice president, Used Truck, Pricing and Sales Finance. "Navistar is an agile company that has demonstrated its ability to move forward regardless of the environment."
"I think when you look back, we actually had a pretty outstanding year in 2020 considering everything we had to deal with," says Rush Enterprises Chairman, President and CEO Rusty Rush. "To be able to punch our way out of that as well as we did … we learned a lot about our business."
Sentiments from other dealers across the market were similar; 2020 was an ordeal but, for many dealers, it set up their businesses to hit the ground running when the market returned.
[RELATED: The 'bullwhip effect' exacerbating the supply chain crisis]
Industry data bears that out. According to a November 2021 survey of Trucks, Parts, Service readers, 31 percent of franchised truck and trailer dealers anticipated they would finish the 2021 fiscal year at least 10 percent above their yearly revenue projections. Another 24 percent expected to be up 2-10 percent for the year, with 28 percent to be in line (+/- 2 percent) with pre-year estimates. For an industry where 45 percent of dealers saw revenue fall from 2019 to 2020, a swift and substantial bounce back was never a given.
One dealer responding to the TPS survey reported its parts and service revenues had surged, up greater than 25 percent year over year. And, as any dealer selling used equipment can attest, a lot of money has been made in the secondary equipment market over the last year by dealers who've been able to sustain inventory levels.
"In our industry things have never been as good as they are right now," ACT Research Vice President Steve Tam said at the Used Truck Association Convention in November.
But attributing 2021's success solely to returning parts and equipment demand overlooks the considerable transformations many dealers made the prior year.
COVID-19 fundamentally upended many longstanding industry norms, such as in-person customer interaction, parts pickup and delivery procedures, pre- and post-service inspections, and remote work accessibility for some associates, among other changes. Across the entire industry, truck and trailer dealers were forced to act swiftly and decisively to ensure people's safety without sacrificing customer service or weakening relationships.
Strong communication has proved vital. Both dealers and their independent aftermarket counterparts were vocal in 2021 about how much they needed and valued information from their supplier partners to help assuage customer concerns and maintain relationships. The supply chain crunch is a global problem but its impact on every customer is unique. Throughout 2021, dealers were forced into the unenviable position of seeking answers to tough questions from their OEM partners and relaying those answers quickly and concisely to their customer base.
"We've managed our customer base as best as we can," says Rush. "We've tried to be open and ask for flexibility and patience."
He adds customers appreciate the honesty but would prefer it be peppered with more good news — particularly regarding new truck orders. On that note, he says Rush Truck Centers' sales professionals are advised to be conservative. It's much better to amend an order total upward than the other way around.
Dealers also haven't been expected to manage order board and build news alone. Most OEMs are doing what they can to provide as much information as possible, both to their dealers and fleet customers.
[RELATED: What OEMs are saying about their order boards]
"We've implemented several new programs and services that help support ease of communication and customer care. These programs have strengthened relationships with our customers by providing an enhanced overall customer experience by increasing the overall flow of information," says Hyundai Translead's Sean Kenney, chief sales officer.
Adds Navistar's Martin, "We remain committed to our dealers and our customers, and trust is at the core of our relationships with them. We have remained transparent about the challenges we've faced, and that has helped strengthen our relationships with both our dealers and our customers."
Those OEM efforts haven't been lost on dealers. Nearly 80 percent of dealer responders to the TPS reader survey say their relationship with the supplier partners have remained stable (62 percent) or improved (17 percent) in 2021 — astonishing totals considering the challenges faced. And dealers say their relationships with customers have fared even better, with 52 percent stable and 41 percent improved.
The task of keeping facilities fully staffed and safe for workers has been equally challenging. One in five dealer responders to the TPS reader survey pegged its current or prospective workforce as the area of its business that has been most impacted by COVID-19. Nearly 90 percent of dealer responders said they have had positive cases in their facilities, and 20 percent said they had at least one employee die from the virus. Coupled with unfortunate layoffs necessitated by the pandemic's sudden onset in 2020, trucking's dealer workforce remains smaller than it was just two years ago.
Though 2021 data is not yet available, American Truck Dealers (ATD) research indicates the franchised truck dealer industry lost more than 26,000 associates from 2019 to 2020.
Among TPS survey dealer responders, 21 percent reported their personnel total fell in 2021, while 24 percent were stable, and 21 percent grew but did not exceed 2019 levels. And while the fractured global supply chain remains the dealer channel's biggest concern entering the new year, the industry's workforce is solidly second. One TPS survey dealer responder said getting good hardworking people "is a challenge that doesn't go away," while another referenced recruiting as an issue that continues to plague its business.
The good news is thus far few dealers view those concerns as potential hazards that could torpedo a potentially great 2022. New truck sales optimism remains muted — just 34 percent of TPS survey dealer responders expect volumes to rise year over year — but overall market confidence is strong.
More than 60 percent of dealer responders expect the industry to grow this year (38 percent by 2-10 percent, 24 percent by more than 10 percent) and another 17 percent see the market remaining steady. In their own businesses those dealers are even more bullish, with 45 percent expecting 2-10 percent growth and 28 percent expecting to grow revenues by 10 percent or more.
Said one responder, "We are thinking the truck business is going to be strong for some time."
This is the first of four TPS articles addressing the state of the dealer and aftermarket channels entering 2022. Stay tuned Thursday as TPS turns its attention to the independent aftermarket.