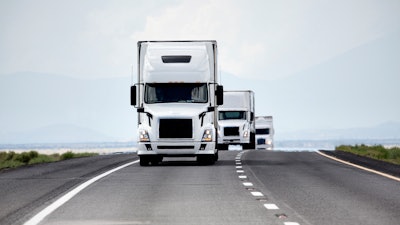 While the consensus isn't universal, sentiment among dealers, aftermarket operations and their OEM and vendor partners is mostly positive about the year ahead. Trucking (nay, everyone) has survived an arduous two years. The optimism the dealer and aftermarket industry showed in January 2020 was crushed almost immediately by COVID-19. Rock bottom came alarmingly fast and businesses that survived the crash have spent most of the last 18 months on the long road to economic recovery.
Yet as 2021 concluded, most (but not all) of the industry had finally seen their revenue exceed 2019 levels and they had allowed themselves to be optimistic again. The year ahead might not end up stellar, but after the two years that preceded it, a solid year with steady growth would be a win for everyone.
The most confident segment of the Trucks, Parts, Service readership entering 2022 is the independent aftermarket.
According to our November 2021 TPS reader survey, 86 percent of independent aftermarket responders anticipate their sector of the industry will see revenue steady (13 percent) or grow (73 percent) in the year ahead. That optimism is even stronger for their own businesses in which 49 percent expect moderate growth, 33 percent expect double-digit growth and just 5 percent see their business trending downward.
"The opportunities [ahead] are endless," said one aftermarket survey responder. Other responders were equally bullish, with several citing equipment demand and strong freight levels as reasons to anticipate business opportunities in the months ahead.
The aftermarket has confidence for other reasons too. Some survey responders referenced their decision to add suppliers, maintain (or increase) inventory during 2021 and their customer service strategies as tools that helped them gain business and rebound in 2021 that they hope to continue leveraging for more growth this year.
When asked to identify the area of their business that generated the most optimism, one aftermarket responder stated, "Our ability to change direction quickly, when needed, in a challenging market. Some larger competitors are not as agile."
[RELATED: Industry Status Report: After tumultuous period, suppliers look to avoid setbacks in 2022]
A second responder had a similar thought: "We have good cash flow, money in the bank, and are able to react quicker than our competition."
And that focus on cash flow was not an isolated one. Another TPS aftermarket responder stated, "I think the business will be there for those who can step up to the opportunity. Cash will be king in 2022 and 2023. Those who have cash can invest in increased stocking levels to offset supply chain delays. Wage growth and higher interest rates will stress cash flow, which may affect stocking levels."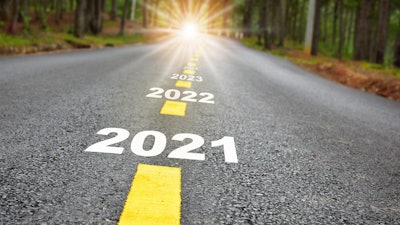 Dealers are nearly as confident, with 80 percent expecting their market to be steady or grow this year and 90 percent expecting the same for their own individual operations.
"I think [dealers] who have been able to keep their customer relationships strong over the last two years are in a good place," said one TPS dealer responder. "Nothing about this has been easy but the market is on better footing today than it's been in a long time."
That optimism is increasingly impressive considering more than half of dealers surveyed expect new (53 percent) and used (55 percent) truck sales to fall in the year ahead. The market consensus appears to be deliveries will fall (though orders may rise as the year progresses), with backend parts and service revenues climbing substantially to drive overall dealership growth.
"We know parts demand is high and we have to capitalize on that," said one TPS survey responder. "Availability will continue to be a challenge, but it is proving easier to get parts than new trucks."
Other dealers concur. Rush Enterprises Chief Operating Officer Michael McRoberts believes the Rush Truck Center dealer network is well positioned to excel in the parts and service market in 2022 after working diligently to optimize its fill rates and shore up its supplier base.
"I do think there is pent up demand out there," he says. "Not all sectors of the economy are back to 100 percent."
Rush Enterprises Chairman, President and CEO Rusty Rush agrees, stating he expects the market to be better and more solid in 2022 than 2021. Beyond parts and service, Rush also anticipates "used trucks will remain very strong in Q1 and Q2."
That positive sentiment and business confidence from dealers and aftermarket operations is good news for non-component industry suppliers.
"Our biggest challenge has been selling software during a time of extreme trepidation among business owners due to COVID-19," says Jacob Findlay, co-founder, Fullbay. "We addressed this by getting more creative on the sales and marketing front and listening harder to the voice of our customers. These are activities that would help any business, even in good times, so it will serve us well going forward."
And despite their nervousness detailed in Part III of our special report, trucking's OEM and supplier community is still generally hopeful about the year ahead. Most TPS survey supplier responders expect dealer (76 percent) and aftermarket (71 percent) revenues to be steady or grow this year and 90 percent of those same suppliers expect stability or growth for their own businesses. The supply chain and workforce challenges facing the supplier community remain massive obstacles, but after nearly two years battling both, suppliers are confident in their strategies to avoid another downturn.
"Bendix had a solid 2021 in both the OEM and aftermarket segments. Several aftermarket categories for us had record demand in 2021," says David Schultz, director, aftermarket business development, Bendix. "We expect the market demand to continue in 2022 with some growth from 2021."
Adds his colleague Richard Nagel, director, marketing and customer solutions – Aftermarket and Air Supply, "Supply issues will continue into 2022 as everyone in most industries are experiencing … Demand likely will remain strong in the aftermarket as OEMs are limited in the number of vehicles they are able to build. This will help drive more aftermarket demand."
Meritor is predicting a similar year.
"We expect the market to continue to recover to above 2019 levels, with increased demand due to the constraints on new production vehicles and freight growth," says Jason Soika, general manager of sales, North American Aftermarket. "This will continue to keep utilization high while the material and labor shortages due to supply chain constraints are mitigated. We do not expect the supply chain constraints to be resolved fully until after 2023."
CIE Manufacturing also expects to see "continuing supply chain disruption and industry volatility throughout 2022 and possibly even into Q1 2023," but doesn't expect production issues to impact customer sentiment. "We anticipate above average demand for chassis will continue in 2022," the company states.
Hyundai Translead agrees, says Chief Sales Officer Sean Kenney. "Our overall outlook on the trailer market is positive," he says. "There has been substantial recovery in manufacturing, employment and consumer spending, which excites us. The recovery and growth we're currently observing has resulted in increased demand for freight volume leading to higher demand for transportation equipment, including van trailers, flatbeds and chassis."
Ultimately, if there's a new concern for the industry, it's inflation. No one seems to know how the market will respond as the supply chain normalizes. Ascending demand helped cushion price increases in 2021. Whether or not that continues in 2022 remains to be seen.
"With inflationary numbers being so high, the largest concern overall would be a strong shift in consumer spending habits," says Kenney. "This being said, the inventory-to-sales ratios continue to remain rather low as companies attempt to resupply and, as such, it is hoped any change in consumer spending would result in a more gradual impact to the industry overall."
Navistar also sees inflation, coupled with the existing COVID-19 and supply chain challenges, as the biggest risk to the year ahead, says Paul Martin, vice president, Used Truck, Pricing and Sales Finance. "All of these could potentially jeopardize the continued economic recovery," he says.
Dealers and distributors are watching those factors too. VIPAR Heavy Duty President and CEO Chris Baer and FleetPride CEO Mike Duffy both consider inflation, supply chain and workforce issues as their biggest concerns. Rush says he's worried about inflation as well. "Inflation is right here in front of our faces, so we'll have to see how it affects customer choices," he says. "I don't see it going away."
But after all trucking has endured since March 2020, there's reason to believe strong operations should be able to withstand an inflationary period.
"Increasing finished goods prices and how much the supply chain will continue to be affected by the pandemic and global recovery are major concerns that both help and hinder our industry," says Tina Hubbard, HDA Truck Pride president and CEO. "Staying ahead of these trends and actively managing through them as much as possible will aid our members in the coming year."
This is the fourth of four TPS articles addressing the state of the dealer and aftermarket channels entering 2022. To read the first three articles in the series, please see below.