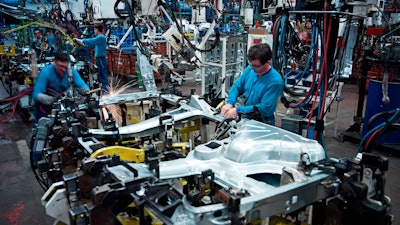 With a recovering and growing economy continuing to push truck tonnage toward new heights and confident dealer and independent aftermarket sales channels poised to build on a strong 2021, it would be logical to assume truck and trailer OEMs and their component supplier partners view the year ahead as a major growth opportunity.
Some do. But according to most OEMs and component suppliers surveyed in November 2021 by Trucks, Parts, Service, any positive predictions given for the year ahead are done so cautiously. It's true 2021 was a good year financially for most industry suppliers. But it also was agonizingly challenging — maybe more so even than 2020 — and the supply chain breakdown that led many of those complications hasn't been resolved. And while most suppliers believe the worst of the supply chain crisis has passed, few are confident forecasting when normalcy and stability will return.
The result is a supplier base hopeful yet uncertain about 2022.
According to the November 2021 TPS survey, 52 percent of supplier responders said their revenue fell by at least 2 percent in 2020 from 2019 after the onset of the pandemic (including 26 percent who were down 10 percent or more). Overall business conditions improved in 2021 as just 24 percent of responders expected to finish the year down greater than 2 percent, but another 17 percent expected the year to finish in line (+/- 2 percent) with 2020 and only 15 percent of suppliers expected year-over-year double-digit growth.
Additionally, while 53 percent of TPS survey supplier responders said their 2021 was trending to exceed projections by at least 2 percent, another 34 percent of responders said they were trending the other way, likely to miss projections by at least 2 percent.
For a segment that typically aims for and achieves strong revenue goals, seeing more than a third of the supplier community below expectations is rare. TPS survey supplier responders attribute many issues for the lower-than-normal revenue totals — not all of which are supply chain specific.
[RELATED: Industry Status Report, Part I: Dealers optimistic after withstanding recent challenges]
When asked in the TPS survey "which area of your business has been most impacted by COVID-19," suppliers did not have a consensus response: 26 percent said raw material fulfillment; 21 percent said freight and shipping; another 21 percent said current workforce; while another 19 percent said prospective workers (i.e., recruiting challenges). And while the political climate in Washington, D.C., was the top business concern for 25 percent of supplier responders looking ahead, raw materials (19 percent), shipping delays (15 percent), production costs (12 percent) and COVID-19 health and business protocols (10 percent) all followed not far behind.
When asked to elaborate, industry suppliers were direct.
"We cannot get all of the products we need from suppliers to produce our products," said one TPS responder. "Also, having enough employees to keep all our operations running."
Another said "supply chain delays and market availability vs. market demand" remains a major obstacle. A third responder added product availability, freight and raw material availability are all ongoing challenges and a fourth worried about how rising prices for each could lead to inflation.
Fortunately for their dealer and aftermarket distribution partners, further discussion with suppliers uncovers most are working diligently to combat these issues. Meritor has developed multiple strategies to solve its labor issues and supply chain cost/delivery problems, says Jason Soika, general manager of sales, North American Aftermarket.
"Meritor has done everything from increased wages to office personnel working the lines in our plants," he says. "Labor shortages have improved since the government subsidies were eliminated. Supply chain delivery and costs continue to be an issue and are reviewed daily to ensure we are getting our 'fair share.' Issues are projected to be present through most of 2022."
He adds, "Sourcing items with long lead times and long supply chains are not always the best options. More investment in automation is required to improve operational efficiencies."
CIE Manufacturing, which produces the vital container chassis necessary to move product through shipping ports, also is working to shorten its supply chain.
"In early 2020, CIE Manufacturing began the implementation of a strategic shift in our production model, an evolution to domestic chassis production," the company states. "This shift required multi-million-dollar investments to expand our American facilities to full production capabilities."
"Who would have thought in less than a year we'd go from a shortage of toilet paper to a shortage of vehicles?" says Chad Monroe, senior vice president, marketing and business development, Accuride. "I think it reinforces that global supply chains can be fragile … We need to be prepared with alternative sources. We need to be flexible and nimble."
No one wants to see a repeat of 2021. Not this year; not ever.
"The overall fragility of the supply chain has made us re-think how we communicate forecasts to our suppliers in terms of details and duration. Also, we have taken the opportunity to further evaluate the role safety stock plays in the business," says Sean Kenney, chief sales officer, Hyundai Translead.
Suppliers also acknowledge the importance of keeping their customers informed during these difficult times.
"The last two years have re-emphasized the need to be agile and to collaborate with our dealers and customers," says Paul Martin, vice president, used truck, pricing and sales finance, Navistar.
Adds his colleague Mark Belisle, group vice president, dealer sales and operations: "Our relationship with our dealers is extremely collaborative and we remain closely aligned with them to address the challenges they and we are facing. We are in unprecedented economic conditions in our industry. Only by working together can we expect to succeed."
Looking back at the past two years, most industry suppliers indicate they've had more success sustaining their relationships with their dealer, distributor and end user customers than their raw material suppliers.
[RELATED: Industry Status Report, Part II: Aftermarket's quick bounce back breeds excitement for 2022]
Twenty-eight percent of TPS survey supplier responders said their relationships with their dealers and distributors improved in 2021. Another 51 percent said those relationships were steady. With end users, responders were even more positive — 23 percent said their relationships had improved and 60 percent were steady. All these numbers were down when compared to the November 2019 TPS industry survey in which 96 percent of suppliers said their dealer/distributor relationships were steady or improving and 97 percent were equally positive about their end user relationships — though sentiment toward raw material suppliers experienced the most fluctuation.
In November 2019, 32 percent of suppliers felt their relationships with their raw material suppliers had improved that year and 65 percent said relationships were steady. Comparatively, just 15 percent of suppliers in November 2021 said their raw material relationships had improved, while 26 percent said relationships had deteriorated — a substantial jump over the 4 percent in 2019.
None of this means the year ahead is doomed. Ninety percent of TPS survey supplier responders expect their company revenues to be steady or increase in 2022, and predictions for new truck and trailer and aftermarket parts sales are mostly positive across the board. If suppliers can continue improving their supply chains and sustain their workforces, many believe 2022 will be a good one.
"We're still getting past COVID," said one responder. "People still want products. The economy will continue to move forward and grow," said another.
This is the third of four TPS articles addressing the state of the dealer and aftermarket channels entering 2022. Stay tuned Thursday as TPS concludes its report with an in-depth look at market predictions for 2022 and beyond.