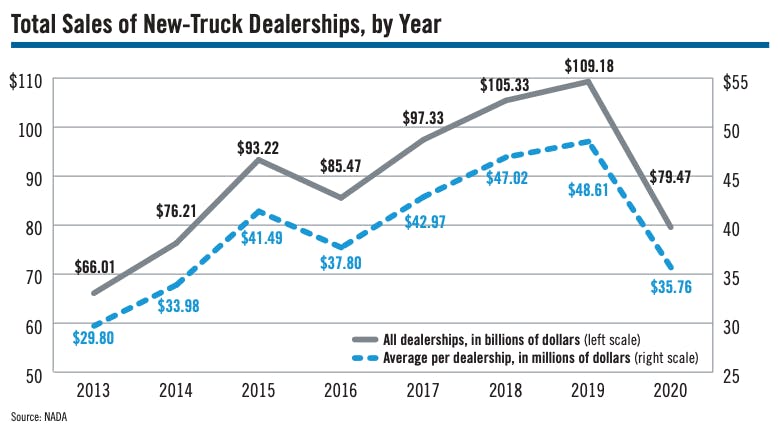 The American Truck Dealers (ATD) has released its ATD Data 2020, its annual financial profile of America's franchised new truck dealerships.
According to NADA Chief Economist Patrick Manzi, ATD Data 2020 provides a comprehensive report of the sales and service profitability of the truck space in 2020. Hampered by the financial constraints of the COVID-19, Manzi states the commercial trucking industry did see a dip in total sales and gross last year but the industry still weathered the pandemic fairly well. 
Trucking lost just two dozen rooftop locations in 2020 and after the horrific losses in the second quarter responded strongly in the second half of the year.
"Throughout the remainder of the year, as consumer's buying habits shifted more toward home goods, trucking activity increased and sales and order activity began to recover," Manzi states. "By December 2020, Class 8 truck orders hit their fourth-highest count ever, according to ACT Research, and orders for Class 8 trucks for all of 2020 eclipsed those in 2019. And in December 2020, medium-duty truck orders hit their second-highest monthly total ever."
ATD reports in Data that the average commercial truck dealership recorded approximately $35.7 million in total sales in 2020, down more than 27 percent from 2019. Total gross was $6.3 million, an 18 percent drop from the prior year, while total operating profit fell by 27 percent from more than $1.2 million to $899,314. 
New truck sales accounted for 15.1 percent of total gross for truck dealers in 2020, with used truck departments accounting for 2.4 percent and parts, service and body operations resulting in the remaining 81.6 percent. The parts and service number was an increase from the 78.9 percent recorded in 2019. Conversely, truck sales fell as a percentage of total gross from 17.7 percent in 2019.
[RELATED: Record truck sales and employment totals featured in ATD Data 2019]
On a pre-tax net profit share of sales basis, truck dealers were stable from 2019 to 2020 at 2.6 percent — though the industry had been at 3.0 percent in 2018 and 2017. As for total share of dealership sales dollars, parts and service rose from 32.4 percent in 2019 to 36.8 percent last year. Used trucks also crept up from 7.0 to 7.7 percent, with new trucks slipping year over year from 60.6 percent to 55.5 percent. 
Yet even with less than stellar end of year states, Manzi and ATD report the market weathered COVID-19 well and appears poised to greatly exceed last year's numbers in 2021. 
"Despite the challenges of 2020, America's commercial truck dealers rose to the occasion," Manzi states. "We expect sales at truck dealerships to improve in 2021 as consumers settle into their more normal, post-pandemic daily routines."
To read more and download a copy of ATD Data 2020, please CLICK HERE.