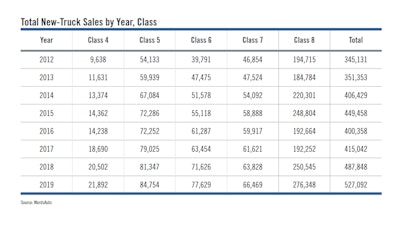 Franchised medium- and heavy-duty truck dealers sold more than 527,000 new vehicles in 2019, the second highest annual total in recorded history, the American Truck Dealers (ATD) announced last week in its ATD Data 2019 status report on the commercial truck dealer industry.
Dealers also topped $109 billion for new equipment sales and $34 billion for parts and service sales in 2019, while also employing more than 148,000 people.
Diving deeper into ATD's financial profile, the association reports total sales for the average truck dealer grew to $48,612,139 last year, a bump of more than $1 million from 2018 and nearly $6 million higher than 2017. The sales bump had little impact on total operating profit and net profit before tax, however, with the average dealer earning a net profit before tax of $1,274,165 last year, down slightly from each of the two prior years.
Additionally, while the total number of dealer rooftops moved up by six stores to 2,246 last year, that number is still below the peak of 2,265 seen in 2017.
ATD reports the $109 billion in sales recorded by dealers last year was nearly $4 billion ahead of 2018 and almost $12 billion ahead of 2017. With the exception of a slight reduction in sales in 2016, total sales for the dealer channel has grown almost every year for a decade has nearly doubled from the $63 billion in sales recorded in 2012.
ATD reports Freightliner again topped the Class 8 truck sales market in 2019 with 36.5 percent market share. Peterbilt and Kenworth both followed at 15.2 percent. Ford led the Class 4-7 space with 31.8 percent of the market. Freightliner was second at 21.4 percent and International third at 16.1 percent.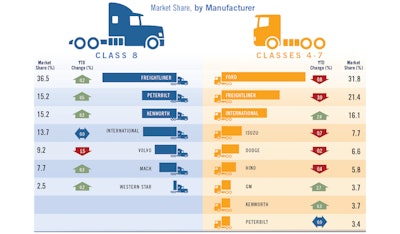 In the used market, the average number of units sold per dealership fell from 70 in 2018 to 52 last year, but the average retail selling price was up more than $7,000 year over year. Parts and service sales also rose in 2019, from $32.47 billion in 2018 to $33.94 billion. Parts represented the majority of those sales at nearly $26 billion, service labor sales was slightly more than $7.5 billion.
Labor and employment numbers also grew in the market in 2019, with the total number of employees in the industry climbing to nearly 149,000 workers and the average number per facility jumping up two associates to 66 workers.
To download a copy of ATD Data 2019, please CLICK HERE.