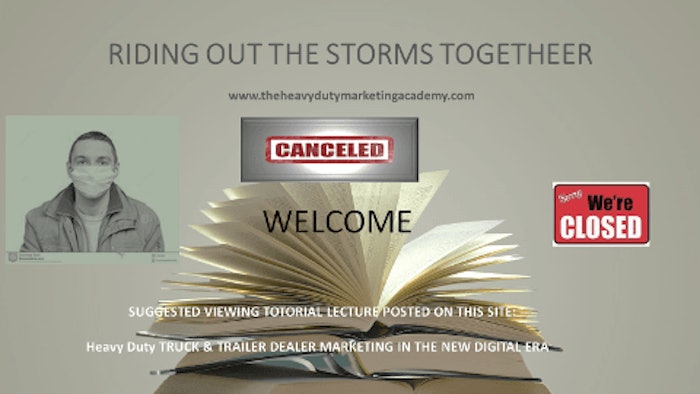 By Gene Ely, Heavy Duty Marketing Academy
Because the COVID-19 coronavirus pandemic has paused the present, it has forced us to live in the future. We've been catapulted into the new real-world of marketing and sales connections that will concentrate more on digital experiences and interactions, including more virtual events.
The depth and recovery of  the COVID-19  pandemic and economic impact is still unknown, which makes things in the commercial vehicle truck, trailer and equipment world all the more uncertain. What is certain is that "business as usual" throughout the industry will not be "usual" for a long while at best.
But, in my opinion, in terms of marketing and sales, things may never return to the old normal. As a result, I believe personal sales will transform into a remote culture with a mix of contact alternatives and digital connections to communicate valuable content.
Meanwhile, the pandemic has hijacked the news that dwells on sickness, human casualties and economic mayhem. All of society is full of personal risk, financial insecurity, anxiety and even panic, while people live in fear for their family's health and their next paycheck. It's also unclear when businesses will reopen.
But the untold truth is that the COVID-19  pandemic is only one of five different storm fronts converging on the commercial vehicle marketplace all at once.
Addressing this perfect marketing storm, The Heavy Duty Marketing Academy has put together an informative video about  how the industry can ride out the storms together. The presentation will help aftermarket and dealer operations gain insight into not just weathering the combination of eruptions of this perfect storm but also coming outside of it even stronger than before it hit.
First, we'll discuss  in great detail the confluence of the five main sales and marketing disturbances affecting the commercial vehicle industry. Then we'll provide a compass that directs how we'll be riding out the uncertainty of the perfect storm together.
To watch the video, please go to www.theheavydutymarketingacademy.com.