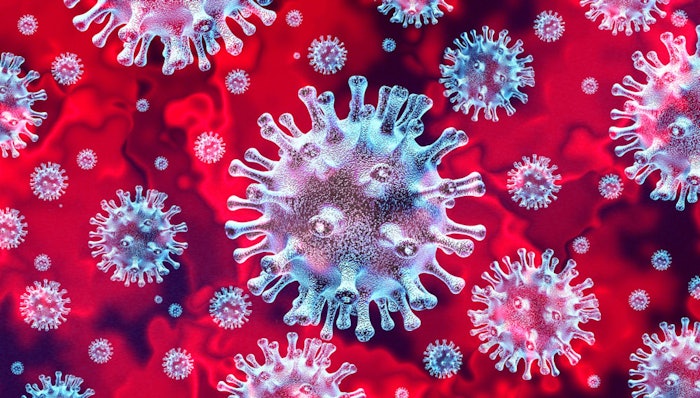 The Heavy Duty Manufacturers Association's (HDMA) webinar held Wednesday painted a grim picture for the trucking industry, focusing on topics including the effects of the COVID-19 coronavirus pandemic on suppliers, Class 8 truck production and sales, and the trailer sector.
Starting with U.S. GDP to broadly measure the U.S. economy, Eric Starks, FTR chairman and CEO, says the expectation is for a drop of nearly 24 percent in the first quarter. "This is unlike anything we have ever seen before," Starks says.
It appears it isn't until the middle of 2021 that GDP returns to the levels seen in the latter part of 2019.
"While this in theory looks like it's more of a V-shaped type of recovery, in fact it's more of a U-shaped type of recovery. We don't' have a huge expectation that things go right back to normal," Starks says. "We believe there is fundamental demand destruction that has happened and that is going to create additional challenges for the industry as we move through the year and into the first half of 2021."
Starks pointed to North American preliminary Class 8 orders in April of 4,000 units. "They were lower than what we saw during the Great Recession and so we anticipate they will stay relatively low as we move further into Q2," he says.
"Ultimately, the next two quarters are going to be very difficult for orders," Starks says. "Traditionally the summer is a weak time period anyway and we don't get back to levels we would consider to be relatively normal until 2021."
Truck inventories already were "excessive" entering 2020. "The data we're looking at here is the data-to-sales ratio. Anytime we're about 2.5, it suggests inventories tend to be a little bit excessive," Starks says. "We are now at levels that are near a reading of 4, which means there are four months of inventory out there relative to the current sales environment."
FTR is predicting Class 8 factory shipments of 24,000 for the second quarter of 2020.
"That's levels we saw during the Great Recession and as we go through the year, we don't anticipate a rapid pick up," he says. "We do expect some pick up in the third and fourth quarters but nowhere near the levels we have seen prior to going into this downturn. Right now our forecast is 152,000 for 2020."
FTR's forecast for trailers is just as bleak, predicting trailer production of 24,000 in the second quarter and 156,000 for all of 2020, compared with 328,000 in 2019.
"Seasonality will be there but it's almost irrelevant at the moment. Right now the demand fundamentals suggest you don't need a lot of this equipment already on order," Starks says.
On the supplier side, Starks says there are concerns over a coronavirus insurgence in the third quarter of this year.
"It is highly likely we see hotspots all over the country and when we try to understand what this means for demand, this is going to be a big issue," he says. "One of the things we are concerned about is component suppliers because component suppliers are all over the country. If we continue to see pockets [of COVID-19], we don't know what that means from a supply-base standpoint."
As part of HDMA's Pulse Survey, members were asked, compared to the beginning of the year, indicate the current levels of operation for your U.S. and Canada business (OE customer order levels).
"Suppliers are projecting they will be 35 percent versus last year," says Richard Anderson, HDMA director of market research and analysis. The most common answer was 50 percent, but the average was just over one-third. (See chart.)
"To note, 35 percent is a very large amount but it's difficult to understand. So if we look at it in terms of the annual business cycle, this is like starting business on May 1 in terms of what the impact of COVID-19 will ultimately bring to our sector. It's like cutting out the first four months of the year for us," Anderson says.

He says there is a high level of uncertainty among suppliers surrounding when the government-mandated shutdowns will end and the length of impact COVID-19 will have on their business.
"The true shutdowns and the plant closures are really the big concerns and when those end really will determine for the supplier community just how the bottlenecks in the supply chain are ultimately released," Anderson says.
Two more concerns involve the financial well-being of the aftermarket.
"We have seen an increase in a lot of suppliers being very worried about bankruptcies going through the independent aftermarket as this drags on. Smaller companies are burning through cash and more importantly burning through their inventory," he says. "Suppliers also are very concerned with resumption of trade tensions with China that has been seen over the last few years that could continue to be a drag on the economy and the sector."