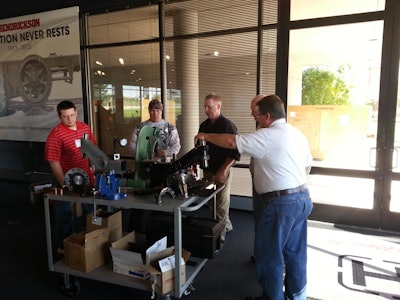 Last week I published a piece on how medium- and heavy-duty truck parts sales professionals employed by dealers and independent distributors can use their time at home and in isolation during the COVID-19 coronavirus pandemic to beef up their product knowledge.
The thesis with that piece was just because salespeople can't be meeting customers face-to-face today doesn't mean they can't be using their time wisely. The unfortunate downtime created by the pandemic doesn't have to be squandered.
While it remains to be seen how long this health crisis will last, and how much time sales employees will be forced to work remotely, business in North America and the truck parts industry eventually will return to normal. Or, at least a state of normalcy. (The e-commerce boom forcibly created by COVID-19 is going to create structural changes to consumer purchasing trends. Online shopping has been a growing segment of retail sales for many years and is now here to stay.) When that occurs, sales employees again will be looked upon by their employers to be informed, engaging and persuasive when interacting with customers to help move product and establish vital partnerships.
It is with that in mind that parts suppliers have previously noted the importance of not only online training but also in-person product tutorials to ensure front-line parts and service professionals are capable of representing the multitude of components found in any parts warehouse across the country.
"One thing we've found is because there are so many suppliers and products out there, if you're not engaging with your distributors regularly and they aren't having experiences with your products, their knowledge can start to fade a bit," says Denso's Gilbert Ramirez, manager, Heavy Duty Commercial Product Development and OES Sales. "You have to keep your products at the forefront."
I believe regular training does that, while also keeping distribution partners up to date on product advancements.
Eaton's Tim Bauer, vice president, Aftermarket, North America, says the wealth of technology pouring into new equipment today is fundamentally altering how many commercial vehicle systems function, including the transmissions and clutches Eaton is supplying into the industry. He says rebuilders and service shops must understand those foundational changes to remain capable of servicing newer equipment as it makes its way into the aftermarket. I wholeheartedly agree.
Fortunately, Bauer adds Eaton's aftermarket partners appear to understand the shift. "As AMTs [automated manual transmissions] make their way into the market, we are seeing an increased demand for information," he says. "We are trying to create the training materials necessary to capably communicate those changes."
Marylou Hornung sees similar interest in education from Bendix distributors.
"Many distributors are thirsty for knowledge on technological advancements as they enter the market; their customers are the second and third owners so they are not typically seeing this as it is released," says Hornung, the company's director, sales operations. She adds Bendix uses "an array of options" when training aftermarket partners, including online courses and video (covered in my piece last week), classroom trainings, at-your-door trainings, industry events and more.
Peterson Manufacturing Director of Marketing Mark Assenmacher says "hands-on or face-to-face training is always preferred" by his team when engaging with distributors and technicians. "We have very knowledgeable, experienced direct sales managers, trainers and manufacturers' reps that hold excellent training sessions."
Additionally, the suppliers I recently spoke with say most on-site courses are developed to educate partners in two ways: to learn more about new or expanded product lines or offer technical guidance for service and maintenance of complex systems.
At Hendrickson, the company's various traveling sales teams are uniquely suited to offer scores of courses to an aftermarket or dealer partner based on their interest and need, though typically the company prefers to hold just one or two courses at a partner's location at any one time to avoid information overload, says David McCleave, director, aftermarket.
"There's so much information out there for everything," he says. "When we're developing a class, we try to ask ourselves what are the one or two things we absolutely want [attendees] to leave with and retain."
I think that's a good strategy. I also like the strategy of sending supplier sales professionals out into the field with distributor salespeople whenever possible. These ride along opportunities are of course great for building rapport between the two parties, but they also provide distributor salespeople guidance on how their suppliers interact with end users and how they market their products in front of those who are actually using them.
I think that can't be overlooked. I hope when COVID-19 is finally defeated suppliers will still feel the same way. I think online training is a necessity and great for keeping products and brands fresh in a salesperson's mind but, ultimately, when we're discussing long-term product support, the best way to capture and hold a partner's attention remains on-site training.
I've been to enough Distributor Training Expos over the years to know counter and outside sales associates retain information better when they can touch and see the components they're being asked to sell. When they can ask questions of a supplier or interact with a contemporary who may have experience successfully marketing a part.
That's why I'm urging suppliers to keep on-site training programs as part of their sales and marketing plans once this crisis ends. I know they can be costly — particularly when compared to online alternatives — but I think the investment is money well spent.
I know online shopping is coming for the aftermarket. That's not up for debate. But relationship-based selling is still going to matter in this industry. Customers are still going to rely on partners they can trust. In a market that's only going to get more competitive, the last thing any supplier should do is to stop investing in the best resource it has for creating brand ambassadors.