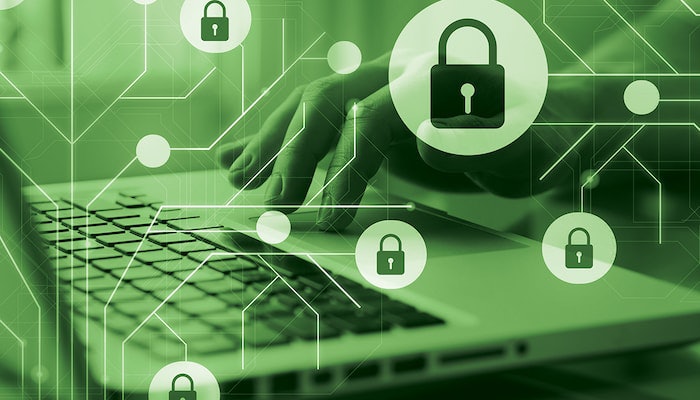 In the parts business there's no such thing as an expert. Well, not a true expert.
There are undoubtedly many parts professionals who know a ton about the components sold and installed on medium- and heavy-duty trucks. Some likely even fashion themselves as experts. But they aren't true experts. Not really. They don't know every SKU and part in the marketplace.
Click here to view our full coverage of the coronavirus' impact on the trucking industry from the leading industry publications of Commercial Carrier Journal, Overdrive, Truckers News and Trucks, Parts, Service.
That's okay. The sheer volume of products available in the aftermarket means no parts professional (working at an independent WD or for a franchised truck dealer) will ever be able to claim true expertise across the industry.
But just because comprehensive expertise is impossible doesn't mean levels of competency and proficiency aren't attainable for parts professionals.
Smart and motivated counter people and outside sales associates can still strive to be authorities on specific product lines and brands and develop enough knowledge across a wide scope of products to gain confidence to solve the myriad of questions their customers may pose.
Right now, with most of America at a standstill and many of the nation's foremost parts professionals separated from their workspace and the customers they regularly serve, never has there been a better time for parts associates to capitalize on their downtime, improve their product knowledge and become as close to experts about their inventory as is humanly possible.
"We know there are a lot of sales guys sitting at home right now calling their customers on the phone because they can't be on the road. And we know even if they're good at that, it's still not the same experience as what they're used to," says David McCleave, director, aftermarket, Hendrickson. "That's why we're trying to engage with them. We know they have time to learn and we want them to keep our products top of mind."
Like its distributors, Hendrickson is currently unable to engage with its customers on-site, so McCleave has spent the last few weeks beefing up the company's online training portal. Primarily using short educational videos and product materials, McCleave says Hendrickson has developed curricula for parts associates and technicians that provide not only detailed component information, but also information about what separates Hendrickson's genuine OE-replacement aftermarket parts from its competitors.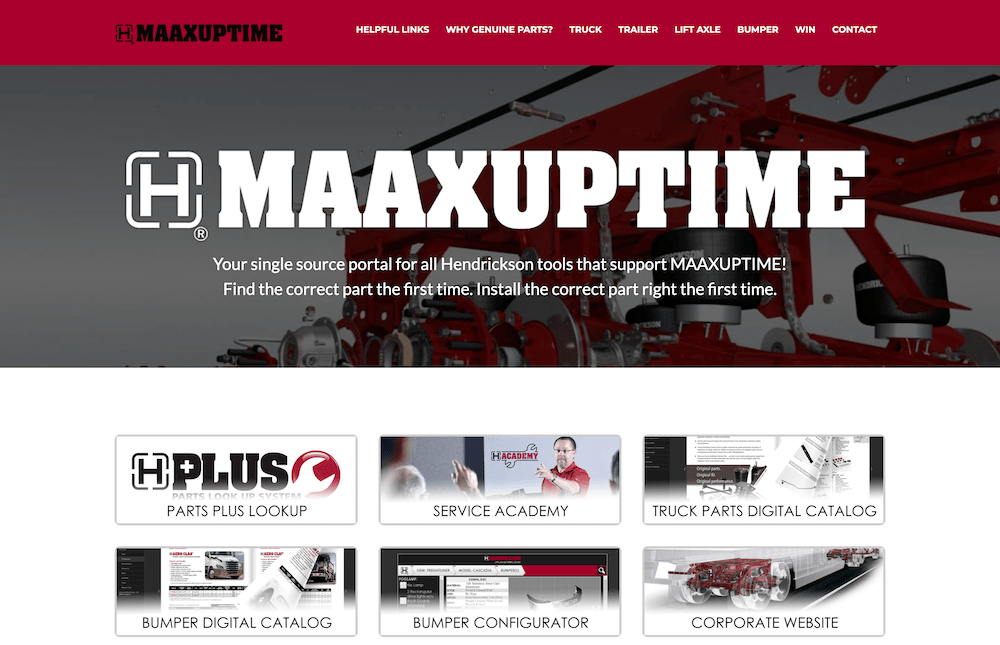 McCleave says Hendrickson is using email blasts to notify distributor partners of the available resources and is raffling $100 gift cards every two weeks to aftermarket professionals who navigate to the page.
The gift cards are money well spent if they generate engagement, as the latter is key to online training.
Meritor has more than 140 free online courses for its distributor partners and all of its interactive distance training was formatted to motivate through engagement, says Craig Anderson, product marketing manager, Aftermarket.
He says Meritor's distance training courses are live webcasts that include product training from the company and question and answer sessions for attendees. Topics change every month, though each segment is designed to improve product feature awareness and enhance customer service, Anderson says.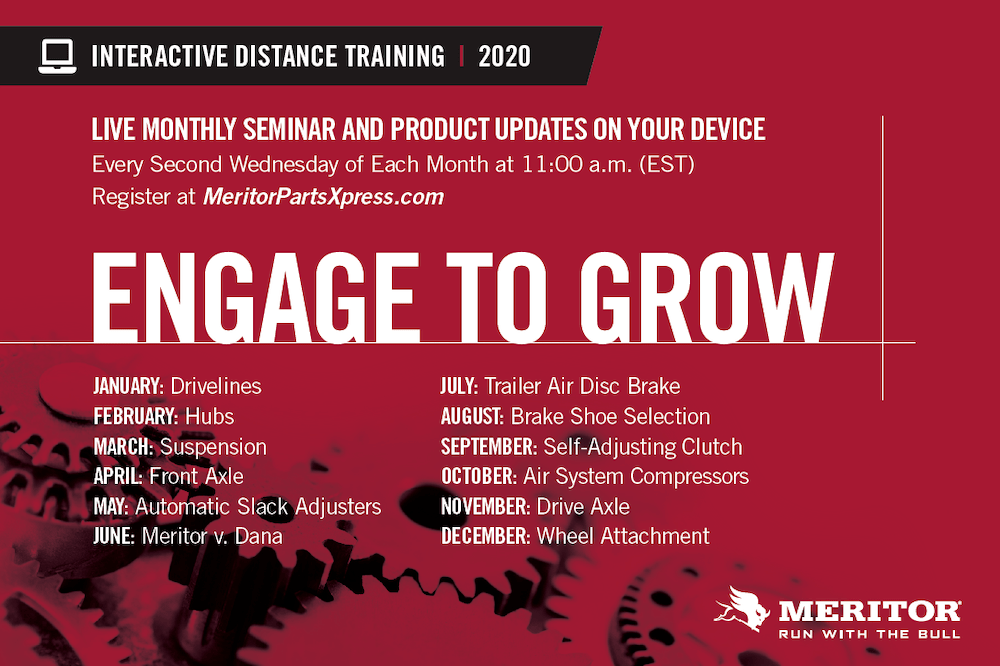 Courses help attendees better understand and support Meritor's product lines by focusing on "sales growth through improved inventory management, market penetration and reduced warranty issues," says Anderson.
Minimizer is another company working hard during this crisis to promote its online training library, says Director of Marketing Steve Hansen.
Minimizer has long supported a two-pronged training approach led by on-site courses from its territory sales managers and complemented by online tutorials. But with its territory managers now stuck at home, Hansen says Minimizer has altered its focus, asking those same sales associates to engage with their customers virtually and asking them to route their front-line parts professionals to Minimizer's online training library.
The company has always directly marketed its training videos to procurement managers and inside and outside sales professionals, but Hansen says now it is imperative the company's territory managers also engage directly with store managers and dealer or distributor executives. With parts sales down nationwide, he says now is as good a time as ever for distributors to add Minimizer's full product line.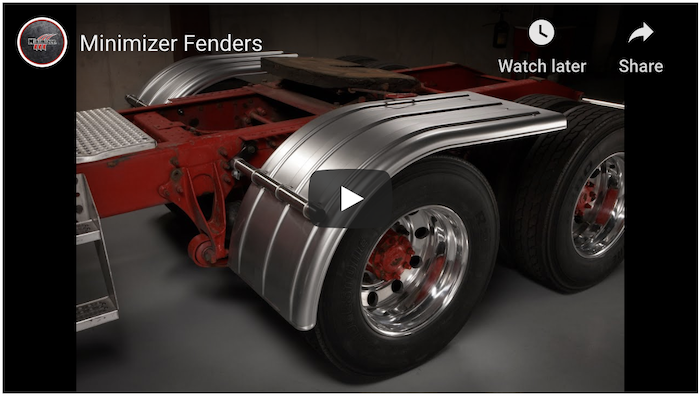 "Not all of our distributors sell all of our stuff," he says. "When times are good that may be fine for them. They can still hit their quotas and they might feel they don't need to add anything else. But now, with everyone chasing revenue, we want them to know we have other lines with healthy margins they can bring on quickly."
Hansen adds training has value for full-line distributors too.
"We see a noticeable lift in sales every time we do an on-site product training," he says. "That's why it's so important for us to find what we can do to remain top of mind."
The unique circumstances of the pandemic also offer suppliers the opportunity to educate aftermarket partners about new and upcoming parts and foundational program changes.
Peterson Manufacturing Director of Marketing Mark Assenmacher says his team is working to complete and disseminate product bulletins for new components scheduled to be released in the coming months.
WABCO is actively educating distributor partners about its new distribution structure after securing its distribution rights from Meritor in January, adds Abe Aon, aftersales, service and support leader, WABCO North America.
"We are ramping up our marketing and messaging to counter people and outside sales professionals. We want to tell them everything we can bring to the market," he says.