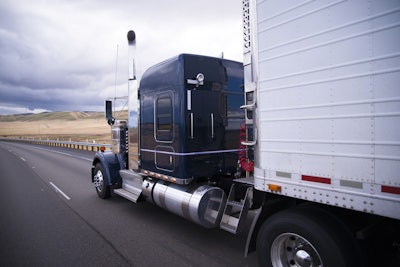 The first ever virtual Heavy Duty Aftermarket Dialogue (HDAD) concluded Monday with a fleet panel featuring Frito-Lay's Mari Roberts, Hub Group's Gerry Mead and Quality Transport's Amanda Schuier.
Moderated by John Blodgett of MacKay & Company, the lion's share of Monday's discussion centered on how the COVID-19 pandemic has altered carrier operations and their relationships with their supplier partners.
Despite some obvious challenges, Monday's panelists overall were increasingly pleased by how their supplier partners have managed the past year. In fact, when looking ahead, the three fleet representatives said they hope the initiatives their suppliers have introduced since last March will stand the test of time.
COVID-19 might have reduced in-person interaction, but in a lot of ways the panelists said it has improved their supplier relationships.
Mead said maybe the biggest change he's seen from his partners over the last year has been their commitment to virtual training. Mead said many of Hub Group's top supplier partners quickly pivoted to online learning in the spring and those supplier investments enabled Hub Group to train more people at a faster rate than ever before.
Mead also was complimentary of the quality of the courses, noting how his company's partners clearly invested time and resources to develop thorough, valuable online curricula. "Some [courses] are better than their in-person classes," he said.
Schuier said her team has been equally impressed by their supplier resources and outreach. As a small fleet that purchases predominately pre-owned equipment, Schuier said her in-house service team is incredibly reliant on supplier assistance for product and service training. When COVID-19 hit, she feared the worst. But the opposite has been true.
"Our shop manager says our suppliers have been on point," she said. Educational materials have been readily available, and suppliers "have stepped up and offered creative ways to train us."
The carrier community also gave their supplier partners high marks for their adaptability in communication, ordering and invoicing. Not every aftermarket supplier has a fully formed online ordering parts platform yet, but the distribution channel has unquestionably upped its e-commerce game in the last 12 months.
Mead said that has to continue. The e-commerce boon created by COVID-19 won't abate when the pandemic does. Mead said Hub Group and other carriers that have become comfortable ordering online will want to continue doing so.
"The new people coming into the industry are computer savvy; they are going to prefer to buy via e-commerce," he said.
Finally, Roberts noted the importance of continued customer service. And how suppliers who dialed up their engagement efforts last spring shouldn't prepare to throttle them down in 2021.
Referencing product training in particular, Roberts mentioned how today's new equipment necessitates more training and service resources than years past.
"We don't have the same techs we used to have," she said. Technical guidance must be readily available online at all times. Technicians expect to be able to Google what they need from their suppliers, and Roberts said suppliers should keep that in mind as they develop their business plans for the months and years ahead.
Added Mead, suppliers should continue to prioritize "making it easier to do business with you."