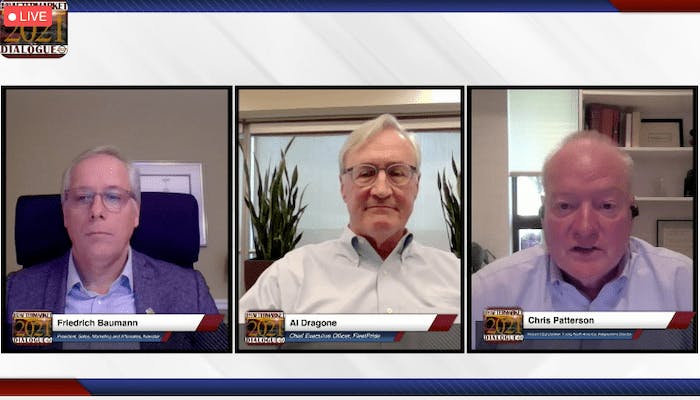 Interest in electric trucks is growing faster than some industry stakeholders expected according to a panel during the virtual Heavy Duty Aftermarket Dialogue (HDAD) Monday.
While leading a panel discussion on "The Real-World View," Chris Patterson, retired CEO of Daimler Trucks North America and an independent director, asked the panel how quickly electrification is going to convert fleets from combustion engines to electric.
Friedrich Baumann, Navistar president, sales, marketing and aftersales, says there is a lot of momentum behind electric vehicles because of the amount of customer interest.
The adoption rate for this type of technology will depend on the applications.
"We have a significant school bus business with IC Bus. I can easily see, with grants being available in that part of the industry, there will be a high adoption rate on that side of the business," Baumann said.
Another application for early adoption of electric trucks is last mile delivery by companies like FedEx, UPS, Amazon, etc., a result of increased home deliveries caused by consumers staying at home because of the COVID-19 pandemic, he said.
"The last mile delivery is an area we see adoption of that type of technology sooner rather than later," Baumann said, adding, "And then there's the medium-duty business because the medium duty doesn't have the same range challenges as the heavy duty."
FleetPride CEO Al Dragone said his company worked with a consultancy in 2018 to analyze electrification of the market.
"We are primarily Class 7-8 so we're really heavy-duty oriented. In 2018, it looked like only 5 percent of the market would be in a significant electrification position by 2030," Dragone said. "[However,] I think it's accelerating faster than it was in 2018 and I certainly think last mile and medium duty are going to be impacted more quickly than heavy duty."
Dragone says, "As we look at it from an aftermarket standpoint, we think there are going to be significant changes in the future. Will we be stocking batteries? I don't know. From our vantage point this is probably not something that's going to impact our business in the next 10 years to a significant amount."
Patterson also brought up another change to the industry caused by the pandemic: omnichannel communication, such as phone, email and texts.
"The adoption rate from our digital channel is not as high or [growing as] quickly as I anticipated. On the other hand, where it makes a huge difference is when I think about our connected vehicle technology and systems integration we are driving on that end of the business," Baumann said.
"I think our customers pay a lot of attention to and value getting more transparency about what's going on with that vehicle in our network across North America. That is where we have put a lot of effort in with our launch of International 360 and IC Bus 360. Adoption rate has been phenomenal," he said.
Dragone said FleetPride's biggest investment in 2020 was building out its digital platform, trying to create more of a fulfillment platform. However, he adds the company isn't doing it because the demand is there currently.
"It's clear the demand isn't there but as we all lived through 2020, we all saw what other industries were doing and how much growth was out there in the e-commerce platform. You can't ignore that," he said.
"We're leading with our chin right now. We're investing in it. We think it's going to be a big part of our business someday and I think some of things we're going to rollout in 2021 will be unique in the heavy-duty world," Dragone said. "But the fact is we're not doing it because there's a huge demand there today. We're doing it because it is where the world is evolving."