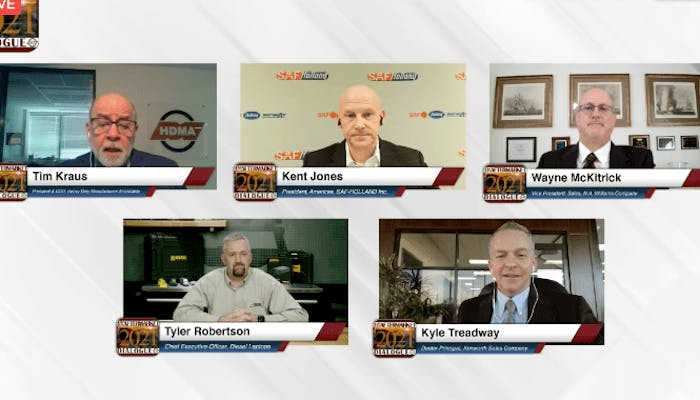 Leaders from a cross-section of the industry weighed in on how their companies dealt with the beginning of COVID-19 as well as lessons learned and efficiencies developed during the ongoing pandemic while speaking at the virtual Heavy Duty Aftermarket Dialogue (HDAD) Monday.
"It was quite dramatic from our perspective as an OEM manufacturer. The very first thing we needed to consider was the health and safety of our people. There were a lot of unknowns going on at that time," said Kent Jones, SAF-Holland president, Americas.
"SAF-Holland as a global company has manufacturing and aftermarket distribution sites in every country to support our customers. I was having conversations with our teams in January with our Chinese operation that were already describing this outbreak," Jones said. "We could see live in our own company this virus spread into the European theatre and we have an Italy-based company so we had a little bit of a warning in that we needed to ready ourselves for what was going to take place in our markets," Jones said.
Jones recalls how the truck manufacturers and trailer manufacturers, particularly on the truck side, nearly stopped production in the first months of the pandemic and it created stress in the supply chain and the company needed to determine how to respond.
The industry was then deemed an essential service "so we were still able to produce … but we had to do it in a much different way. That was right-sizing the organization, it was managing supply chains and most important keeping people safe," Jones says.
Wayne McKitrick, vice president, sales, N.A. Williams Company, say COVID and the inability to meet with people made it difficult for the company because "our whole reason for being, historically, is we're feet on the street. We're the relationship between manufacturers and distributors and the entire supply chain."
McKitrick says the company had to quickly transition to a "constant contact" format in which the company was calling hundreds of customers as it began looking into virtual meetings.
He says the greater communication served several purposes.
"We wanted to survey the customers, survey the distribution channel and see how they're reacting to [COVID] and discover how we're going to be able to continue to help them find new opportunities to continue their growth and taking care of their end-use customers. We had to keep trucking running and parts flowing," he said.
Leadership at Kenworth Sales Company had to refer to its emergency response plan written approximately a year before the pandemic. The plan was orginally for natural disasters like earthquakes, said Kyle Treadway, president and dealer principal, Kenworth Sales Company.
"We tweaked it and having made a lot of those decisions in advance was the secret to helping us keep our heads calm," Treadway said.
He also expressed the importance of communication.
"The fact you could convince and show your stakeholders that you are aware of the problem, assessing [the situation] even if you didn't have all the answers, was so important to communicate you were looking for them. And that made all the difference," Treadway said.
Being deemed an essential business calmed nerves and enabled the dealer to "get into the business of how we operate within various state, county and city restrictions because they were different in every location," he added.
Founder and CEO Tyler Robertson said Diesel Laptops was fortunate because it imports a lot of its products from China, Italy and Spain, which were the first three countries, enabling the company to have a plan ready to go before the virus arrived in the U.S.
"We battened down the hatches more quickly than a lot of other [companies] and we took the data approach. Every day we're actively monitoring phone calls, email website traffic and views on YouTube and we could just see the dips and climbs — which are indicators on volume and transactions inside your business," Robertson says. The company knew how much it had to sell each day to stay profitable.
"We clamped down hard and made a lot of drastic decisions in the beginning and started scaling things up as the economy started reopening," he added.
Moderator Tim Kraus, HDMA president and chief operating officer, ended the session with a quick-fire round, with the question being lessons learned on best practices and efficiencies these companies were able to develop as the pandemic wore on.
For McKitrick and N.A. Williams Company, cost saving was found in the company's travel model.
"There's a lot of that that's not going to happen again. We will evaluate what's necessary and the benefit of going somewhere in person. We're still going to be [traveling] a fair amount, but there will be plenty of times to use video calls that will be much more efficient and effective," he said.
Robertson said his company cut out travel, cut out tradeshows and decreased its online marketing "and we saved seven figures and made a lot more money, so that taught us something."
Treadway said, "We're a relationship-based business and if you can't be face to face with people, you have to [figure out] some other way, so communication is king."
He added, the importance of culture. "There's a lot of forgiveness from the market place if you have a relationship and you have a culture that is understanding."