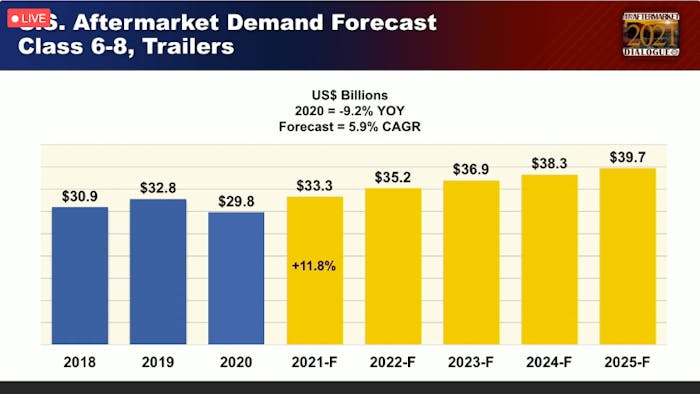 The United States aftermarket for Class 6 to 8 trucks and trailers fell by approximately 9.2 percent last year due to COVID-19 — a drastic drop but not actually as bad as first feared — MacKay & Company's John Blodgett reported during virtual Heavy Duty Aftermarket Dialogue (HDAD) Monday.
At last year's HDAD event in Grapevine, Texas, Blodgett and the MacKay & Company team predicted mild aftermarket growth of 1.2 percent for the American market in 2020. Blodgett said that prediction was trending properly for two months before the pandemic arrived and cratered the market. It was at that time that Blodgett said MacKay & Company was forced to recalibrate its 2020 projections, shifting downward precipitously and expecting an ultimate market contraction of 18 to 20 percent.
Blodgett said with those numbers in the mind, the performance of the aftermarket since late in the second quarter of last year has been a revelation. All segments of the transportation industry crashed last spring, but nearly every segment has been up across the board since (parts and equipment sales, service labor hours, fleet utilization, etc.).
And with vaccinations finally on the way, Blodgett said MacKay & Company is now predicting a positive market correction of 11.8 percent for the year ahead.
"We anticipate the market is going to get back to 2019 levels," he said, with a compound annual growth rate (CAGR) of nearly six percent through 2025. COVID-19 isn't over yet, but Blodgett said it appears the market has stabilized and appears capable of managing the pandemic until it recedes.
MacKay & Company's data for 2020 and prediction for 2021 is similar up north. Blodgett said the Canadian aftermarket fell by 12.5 percent last year but could recover to a tune of 12.9 percent this year. Mexico's aftermarket also is likely to improve, jumping up 14.4 percent this year after last year's 18 percent drop.
On a per-dollar basis, Blodgett said MacKay & Company's final data for 2020 shows American aftermarket as a $29.76 billion business. Truck dealers hold the largest share of those sales at 49 percent, followed by heavy-duty distributors (19 percent) and independent repair shops (9 percent). He said the 11.8 percent growth projection would bring the market to $33.3 billion in 2021.
But Blodgett also acknowledged the pace in which the aftermarket rebounds is unlikely to be stable. MacKay & Company is estimating the first quarter to account for just 20 percent of the year's total sales before business trends up in Q2.
That idea of an uneven recovery was reiterated by MacKay & Company Economist Bob Dieli.
Referencing his Truckable Economic Activity (TEA) data measure, Dieli said the industry is just beginning to remove the red warning signs it has faced over the last nine months. Dieli believes the economy is recovering but said the path forward for the rest of the year could go one of those ways. The optimistic view is steady, continuous improvement; the pessimist's view is slower growth and a slight slowdown in the latter half of the year.
Dieli referenced four issues most likely to drive the market toward either recovery: vaccination rollout, the return to in-person schooling, the return of the entertainment sector and the stabilization of the supply chain. He said the first point will likely impact the others and the speed in which the country returns to normalcy — or as close to normalcy as possible.
But what about Biden?
Monday's event also featured a short segment from Ann Wilson, MEMA's Senior Vice President of Government Affairs, who briefed the industry on how President Biden is likely to prioritize his first 100 days in office.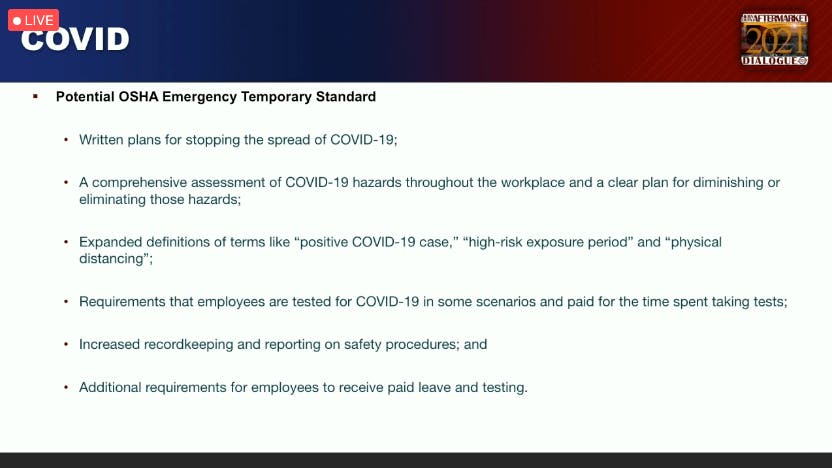 An example of possible OSHA standards that could be enacted to combat COVID-19 in the workplace from MEMA's Ann Wilson.Unsurprisingly, Wilson said most of Biden's focus at this time is on fighting COVID-19. The president remains committed to his 100 million vaccines in 100 days goal, and also is considering and likely to push for new temporary OSHA standards that prioritize workplace safety to reduce COVID-19 transmission.
Though no formal standards have been released, Wilson said she believes the new administration will demand employers develop written plans for stopping COVID-19 spread, complete with lists of COVID-19 workplace hazards, required testing, increased record keeping for safety procedures and additional requirements for employees to receive paid leave and testing. Wilson said the new administration does not want to slow the economy but has made it clear they intend to prioritize safety first and foremost.
The administration also is likely to prioritize climate change as much as possible — particularly if/when the COVID-19 crisis begins to wane. Wilson said President Biden campaigned on and remains committed to reducing America's emissions and carbon footprint.
What does that mean for trucking?
Wilson said it's time for the industry to accept electrification as an eventuality, though when and how the industry evolves to assimilate in electric vehicles will depend on how much it is willing to work with government and regulators.
"I think we're going to get an electrification mandate," Wilson said. "The question is what is the transition period going to be?"
She said manufacturers, suppliers, carriers and aftermarket operations alike need to be vocal about how they believe it would be best for the industry to address climate change and reach the new administration's long-term goals. Wilson said it is unlikely the heavy-duty industry will come out of this administration without some type of mandate regarding emissions but said collaboration might help create a mandate with a more reasonable timeline.
"We need to frame this as managing the push toward electrification," she said.
Finally, Wilson warns that manufacturers and aftermarket operations should prepare for the Biden administration to push for a rise to minimum wage. She said the new administration is "going to take every opportunity they can to address minimum wage," and may consider adding minimum wage requirements into legislation, like a potential transportation reauthorization bill. She said that's not set in stone but is something that could occur.