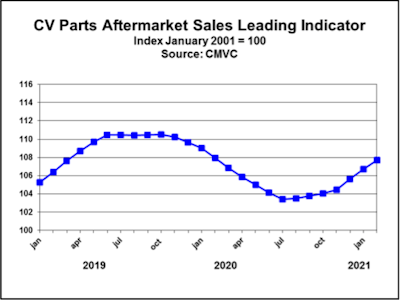 Commercial Motor Vehicle Consulting (CMVC) announced Tuesday its Parts Aftermarket Sales Leading Indicator (PLI) increased 0.9 percent in February from January — the seventh consecutive monthly increase in PLI.
CMVC says the upward trend in PLI has accelerated over the past three months, signaling the growth rate of commercial vehicle aftermarket parts sales will gain momentum in the coming months.
"The truck population is operating at high utilization rates and the economic recovery is becoming broad based, resulting in higher fleet capacity utilization across fleet market segments/industries and applications implying trucks are depreciating at relatively high rates," says Chris Brady, CMVC president.
RELATED: HD Aftermarket Dialogue offers optimism for 2021
Additionally, Brady adds the truck population is "growing to meet expanding freight volumes implying the number of trucks depreciating is increasing that will result in an upward trend in parts aftermarket sales."