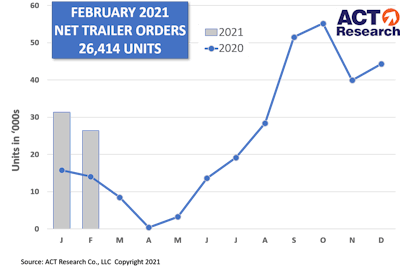 February net U.S. trailer orders of 26,414 units fell nearly 16 percent from the previous month but rose nearly 88 percent compared with February of 2020, according to the most recent issue of ACT Research's State of the Industry: U.S. Trailer Report.
Before accounting for cancellations, new orders of 28,300 units were down 14 percent versus January, but 74 percent better than the previous February, ACT reports.
"Although it seems many OEMs are fully committed for dry vans and reefers this year, negotiations with fleets continue," says Frank Maly, ACT director–CV transportation analysis and research. "While orders will continue to be booked, without meaningful increases in production rates, backlogs will remain extended."
Maly adds, "Although not official, the backlog-to-build ratio points to a de facto opening of 2022 orderboards by several OEMs, although one has publicly indicated they are pausing further order acceptance in the short-term."
ACT's State of the Industry: U.S. Trailers report provides a monthly review of the current U.S. trailer market statistics, as well as trailer OEM build plans and market indicators divided by all major trailer types, including backlogs, build, inventory, new orders, cancellations, net orders, and factory shipments.