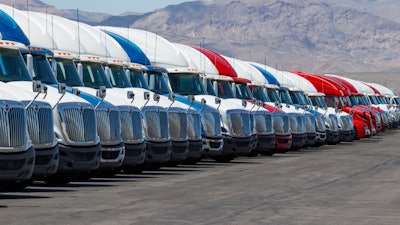 Improving COVID-19 conditions — despite news strains of the virus — and the lack of supply were two of the main issues discussed during the Heavy Duty Manufacturers Association's (HDMA) webinar held Wednesday along with ACT Research.
HDMA's Pulse Survey asked supplier members their top three concerns to restarting normal business operations. Accuracy of production and demand forecasts has long been the top concern. In this month's survey results for that concern (11 percent) was topped by raw material and semi-finished good procurement (42 percent). Rounding out the top three concerns, labor force readiness and availability (23 percent) and inbound/outbound shipper availability and cost (19 percent).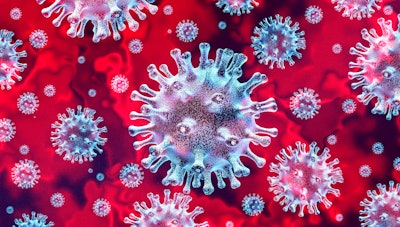 COVID update
"COVID infection rates at supplier facilities continue to decline in March, also showing a welcome reduction in absentee rates. The labor situation is stabilizing hopefully somewhat. Also for March, we started a preliminary commercial vehicle vaccination rate and apparently we are at [a consumer supplier vaccination rate of] 24 percent," said Richard Anderson, HDMA director, market research and analysis. Three out of eight suppliers don't plan for sales travel or industry engagement until at least until the fourth quarter, he added.
Jim Meil, ACT principal, industry analysts, gave a good news/bad news scenario regarding the COVID-19 pandemic.
"COVID is on retreat but it's not quite defeated yet and we are certainly keeping our eyes on it as the No. 1 business risk going forward, mainly because of [COVID] mutation strains. Vendor inventory problems are becoming more severe and that's really hobbling the production process."
Supply gridlock
COVID-19 remains a culprit in the supply problems that are plaguing the industry. Adding to the problem is the container ship that recently ran aground, blocking the Suez Canal. Twelve percent of global shipping trade goes through the Suez Canal, Anderson said. "It's really just another jab in an already sore spot," he added.
[RELATED: Pinched ports: Bottlenecks at California ports wreaking havoc on truck parts supply chain]
As part of the Pulse survey, members were asked whether the current supply chain shortages represent a large enough bottleneck to limit short-term truck and trailer production.
A month ago, 89 percent answered yes and for March 100 percent of the respondents replied they have inbound shipment delays and 100 percent reported they have outbound shipment delays.
"No respondent has escaped inbound and outbound delays. We have never seen both of these figures be at 100 percent before. This truly is an industrywide gridlock," Anderson said. "Making this even more difficult for suppliers is the length of delays are increasing."
The Pulse Survey asked approximately how long inbound raw materials are delayed as well as semi-finished or finished outbound products. Inbound delays in March are roughly 14.8 days compared with last month at 13.7 days. Outbound delays in March are roughly 9.5 days, compared with 6.6 days the previous month.
[RELATED: Fighting COVID-19 has been mentally challenging; reopening the economy will be too]
ACT Research Vice President Steve Tam says part of what ACT is trying to do is differentiate the impact of all of the dynamics with which the industry is dealing
"From the conversations we have with the industry, we came up with a litany of things that are having an impact. Up until relatively recently, it hasn't had as dramatic impact on the commercial vehicle segment as it has on cars and light truck segment but we are seeing this as an issue and having to deal with it," Tam says.
Among the supply chain constraints are computer chips, sensors, windshields, transmissions, wiring harnesses, axles, wheels, tires, fifth wheels, resin, steel an oxygen (for cutting steel).
"Some of these commodities, parts and assemblies are not in short supply or causing problems today but we're approaching a point where they may become concerns. So these are things to keep an eye on," he says. "The takeaway is it's going to be a while before we get back up to a level of production that manufacturers would like to be and that customers are dictating."
Tam also noted manufacturers that are short components are diverting as many as they can away from aftermarket and away from medium-duty trucks in favor of Class 8 because of the higher profit margins.