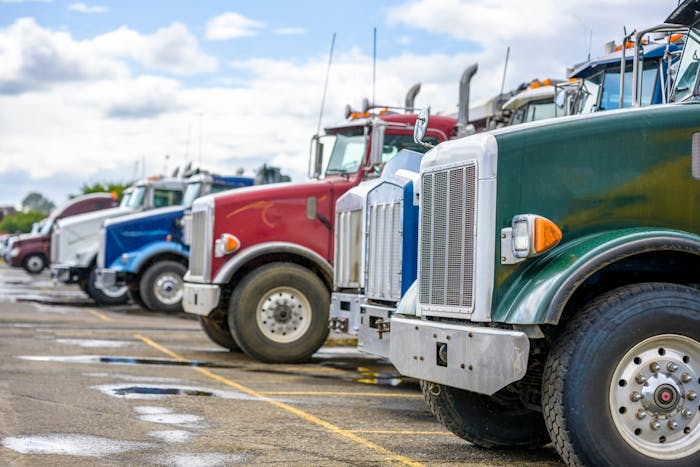 Sales and business optimism is returning to trucking's dealer and aftermarket channels, reported responders to Trucks, Parts, Service's reimplemented reader survey on COVID-19 business conditions last month.
Since pausing our sentiment survey at the end of Q2 last year, business has improved in all corners of the industry. The aftermarket is now expected to grow by nearly 12 and 13 percent in the U.S. and Canada in the year ahead, and many TPS readers who last summer were just trying to keep their heads above water are now once again in growth mode.
COVID-19 hasn't yet been eradicated but its strain on the aftermarket has lessened. Trucks are moving, which means business can hum again.
The story is similar in the dealer channel, which experienced its most volatile stretch of truck and trailer order fluctuations in recorded history last summer before finally stabilizing.
We'll have more on the dealer market's rebound tomorrow. In the parts and service space, optimism for the year ahead comes not only from aforementioned industry projections but also 2020's second-half turnaround.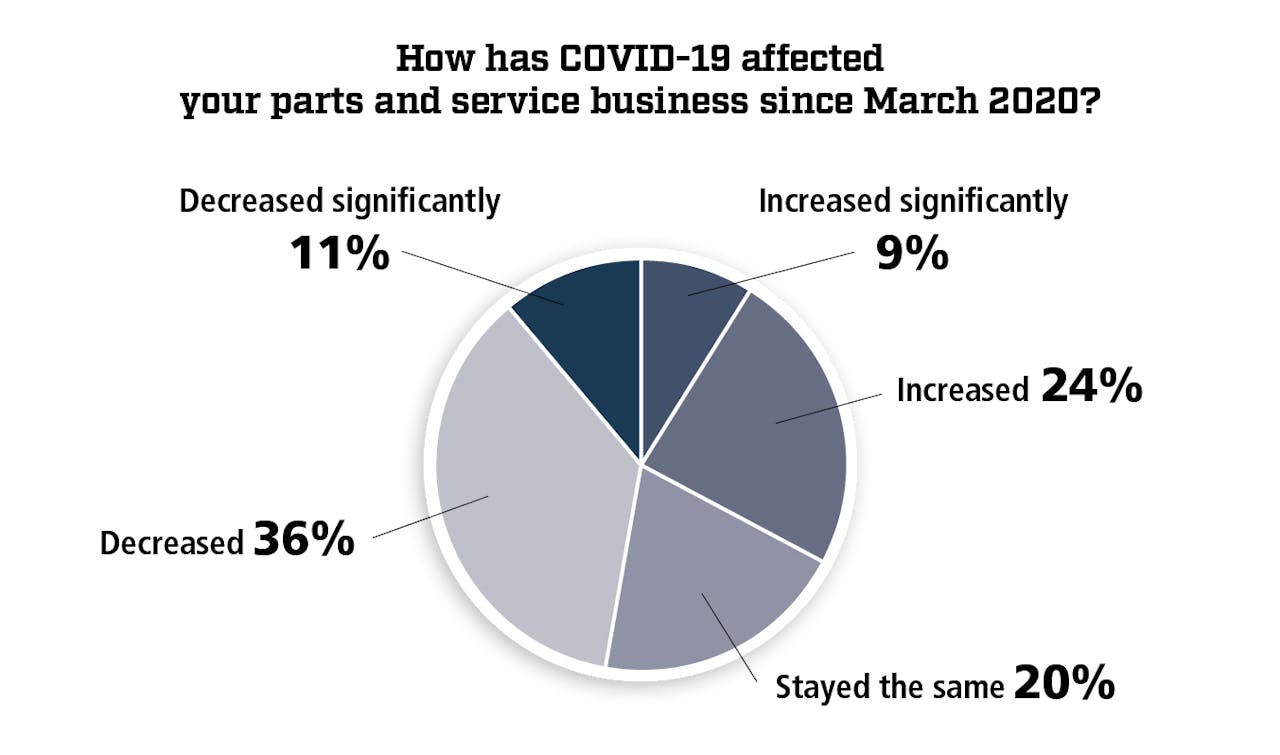 Source: TPS January 2021 reader survey.After hovering around 75 percent during the opening months of the pandemic, only 47 percent of TPS responders now report they have suffered a decrease in parts and service sales since last March. Conversely, one third of responders say their parts and service sales have actually increased since March 2020, while one in five readers say their parts and service business has stayed the same throughout the pandemic.
Among those who did lose sales, 29 percent of responders say their parts business has been hardest hit and 31 percent say their parts and service sectors have fallen equally. Only 16 percent of responders have experienced a larger drop in service revenue than in parts.
Almost across the board, aftermarket responders point to the months of March, April and May as the triumvirate that determined the profitability of the 2020 calendar year. Some responders who avoided massive sales losses during that quarter say they were eventually able to recover their lost sales. Others weren't so lucky, though generally all responders say business did recover to some degree as the year progressed.
"We were having an amazing first quarter [in 2020] and then the bottom dropped out," says one responder. "We decreased initially but have rebounded, though not quite to pre-pandemic levels," another says.
Somewhat surprisingly, many aftermarket operators say their biggest concern entering the new year isn't the potential for parts sales but the availability of parts to sell. COVID's impact on global supply chains has hit the parts space particularly hard.
Though 71 percent of survey responders expect their parts sales to increase in the next 30 days, none expect sales to "increase significantly." Another 71 percent expect their parts sales in the first six months of 2021 to be up year over year compared to 2020, but only 14 percent expect a significant bump. Considering the issues that occurred last year during that time, it is clear parts availability is causing issues in the channel.
One responder couched his sales optimism with "if parts can be delivered." Another says, "Weather and new equipment sales are slowing the delivery of some replacement parts." A third adds, "Inventory availability will be a struggle. Material costs, ocean freight challenges and LTL costs are all increasing."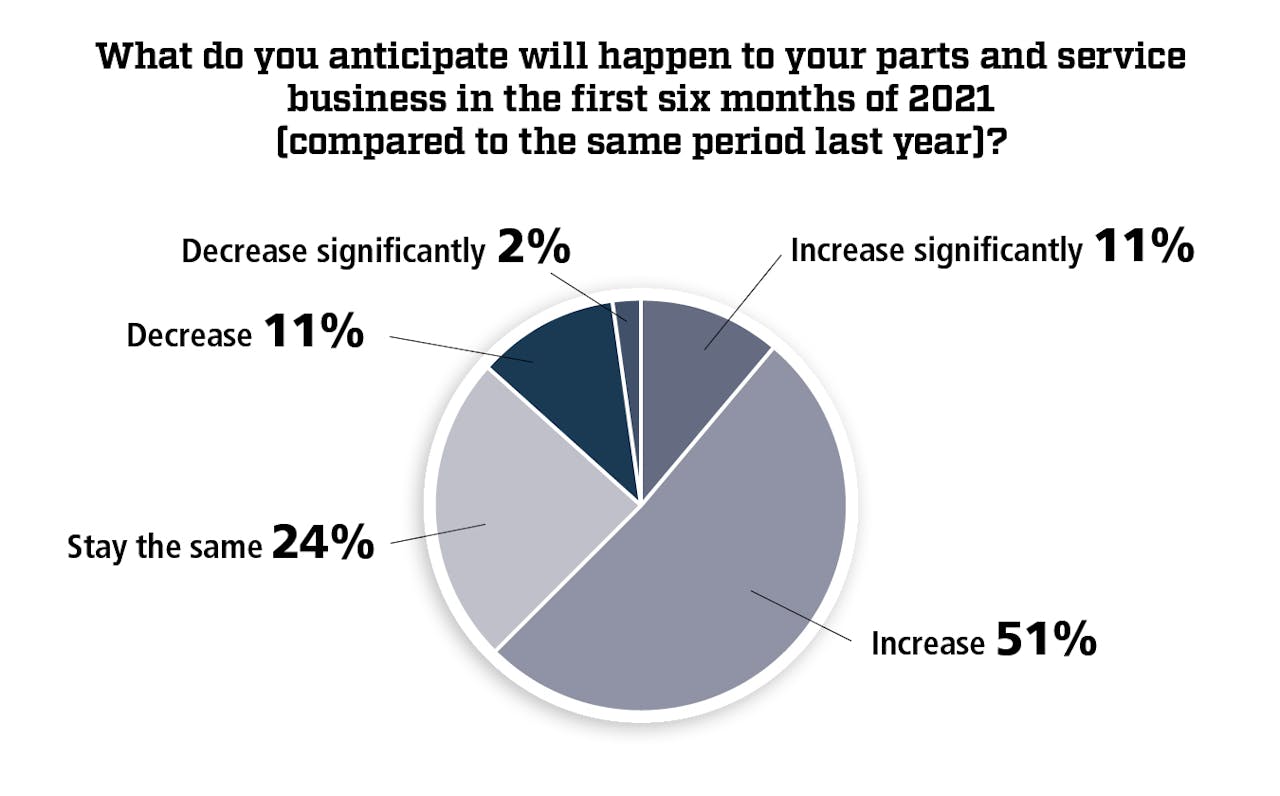 Source: TPS January 2021 reader survey.As such, the service sector is more measured when predicting the months ahead. Only 46 percent of TPS responders say they expect their combined parts and service sales to increase in the next month. Nearly the same number (40 percent) assume the market will remain the same. There's a bit more optimism when thinking longer term — 62 percent of responders expect sales to increase (51 percent) or increase significantly (11 percent) through June — but still below parts-only averages.

Source: TPS January 2021 reader survey.Parts were again referenced as a reason for concern from readers, as well as technician availability.
"Parts and supplies have become more difficult to come by," says one reader.
But that isn't to say there isn't good news for the aftermarket and dealer parts and service operations.
Thanks to the market's stabilization in Q3 and Q4 last year, responders to our TPS survey question ranking overall business conditions for 2020 on a 1 to 10 scale (with 1 being the worst year ever and 10 being the best) gave last year a final grade of 5.92. Hardly a win, but definitely not a total loss, and well in line with the 6.37 responders predicted for the latter half of 2020 in our reader survey last June.
Overall, January survey responders have a nearly identical outlook of 6.38 for the first two quarters of 2021. Their expectations for the entire year are even higher at 6.54, with 3 percent of responders anticipating the best year ever and 55 percent of responders expecting the year to be a 7 or better.
While the parts and service channel still faces its fair share of challenges — in addition to parts and technician availability, responders also are concerned about COVID-19 vaccine rollout, shifts in customer purchasing habits, the rapid evolution of industry technology and changes brought by the new administration in the months ahead — after the tribulations of the last 12 months, the industry's general outlook is cautious optimism.
As one responder succinctly states, "I think for the most part the trucking industry has weathered the pandemic quite well. Being classified as an essential industry certainly has helped companies and their employees deal with this financially." 
Analysis of dealer responses to Trucks, Parts, Service's January 2021 reader survey will be available Monday.