Only 12 percent of new truck dealers and 8 percent of used truck dealers expect their truck sales totals to decrease in the first six months of 2021 compared to the same period last year, reported responders to Trucks, Parts, Service's reimplemented reader survey on COVID-19 business conditions last month.
Since last spring's sharp yet fortunately brief equipment market collapse, sales across the new and used truck and trailer markets have been consistently on the mend. In responding to our reintroduced COVID-19 business conditions reader survey in January, dealers across the channel confirmed the market's resurgence and, despite concerns, now appear generally optimistic about the sales potential for the months ahead.
It is highly unlikely 2021 will be the dealer market's best, but after the events of the last 11 months, that it even has the potential to be average is big win for the entire industry.
According to our readers, the strength of the market today is due to the speed in which it recovered in the second half of last year. According to our COVID-19 business conditions survey in June 2020, 79 percent of new truck dealers, 80 percent of used truck dealers and 100 percent of trailer dealers were anticipating their equipment sales to increase during the third quarter. For a market that at the time was staring at record-low order totals, predicting any sales growth in the months ahead wasn't a huge leap to make. But assuming a correction doesn't make it so.
Fortunately for the dealer channel its industry consensus was quickly confirmed. Truck orders rose exponentially from June to October and trailer orders generally followed. By the fourth quarter Class 8 orders were averaging more than 45,000 units a month, used truck pricing and volume were above 2019 levels and trailer sales were equally strong.
The second-half recovery led to ultimately mixed results for the dealer channel when evaluating the calendar year. One in four new truck dealers responding to last month's TPS survey say their new truck business has actually risen since last March while another 25 percent say their sales have stayed the same. Used truck dealers have fared even better, with 29 percent seeing their sales rise and 33 percent maintaining their pre-pandemic levels.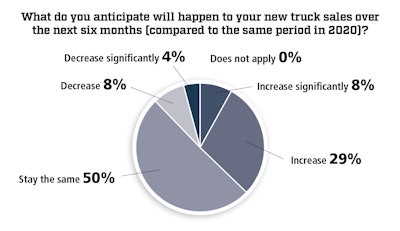 While dealers unquestionably appreciated the market correction, several survey responders also noted the true driving force behind the market's late-year surge is harder to pin down. It's not as if the truck and trailer market are unfamiliar with large market fluctuations.
"New truck sales have not been stable for a long time so it's hard to tell how much COVID really impacted sales," says one new truck dealer responder. A new and used truck dealer agrees. "I don't know if this was the result of COVID so much as a strong economy."
Either way, responders did indicate the second-half market comeback has made it easier to business plan for the year ahead. Had last year been the worst year in dealer history, industry sentiment would be pretty bleak right now. But according to survey responders, that is not the case.
Only 4 percent of dealer responders to our TPS survey question ranking overall business conditions for 2020 on a 1 to 10 scale (with 1 being the worst year ever and 10 being the best) gave last year a 1. The industry average was 5.54, and 13 percent of dealers actually said last year was their best ever.
Expectations are similar for the rest of this year. Survey responders anticipate the first six months of 2021 to be a 5.42 on our scale with the entire year trending higher at 6.08. No dealers expect this year to be their worst ever (in fact, no dealers are predicting 2021 to be a 1, 2 or 3 on our scale) and 41 percent expect the year to be at least a 7.
Yet 6.08 is hardly exuberant optimism. Aftermarket survey responders are slightly more bullish at 6.54. Even with the market bouncing back, dealers do have some fears. Most are found in expected areas. Several dealers say order backlogs and component availability slowing new truck and trailer production and aftermarket parts sales are of concern, as are any efforts made by the new administration that could hinder business growth and customer success.
"Some of the policies of the new administration regarding infrastructure, construction, taxes and economic decisions will impact the industry," says one responder.
And it's not as if the coronavirus has disappeared either. Several dealer responders say they are eager to return to more conventional business conditions where they can see and interface with customers regularly. Others fear the pandemic's grip will continue to stagnate or weaken the economy.
"I don't believe the economy will improve," one dealer responder says, while another opines "business is going to come back slowly."
Or, as a third dealer puts it, "[We're] hoping to trend up. But if we stay the same, that's a win."