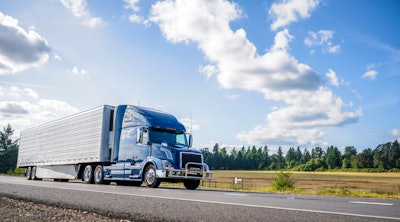 The NTEA – Association for the Work Truck Industry has released the results of its annual Fleet Purchasing Outlook survey. Now in its ninth year, NTEA's survey reaches fleets of all shapes and sizes.
Nine percent of responders to this year's survey operate fewer than 10 trucks, while 13 percent operate 10 to 50 trucks and another 12 percent operate 51 to 100 vehicles. Larger fleets are well represented in the survey as well. Nearly a third of responders (32 percent) operate 101 to 500 trucks, while another 25 percent of responders represent fleets of 501 to 5,000 units.
Fleets of various duty segments and classes also are well represented in NTEA's annual report. While governments and municipalities represent the largest sector of survey responders at 44 percent, the remaining 56 percent of responders were fairly well distributed in utility/telecom (17 percent), construction (15 percent), delivery/cartage (9 percent) and other (15 percent) markets. From a weight class perspective, NTEA survey responders skew slightly more toward lighter classes (39 percent of responders run Class 1 or 2 trucks), with medium-duty Class 3-5 trucks and heavy-duty Class 6-8 trucks and tractors representing 26 and 35 percent of responder vehicles, respectively.
The diverse responder base is essential because it enables NTEA to "assess expected fleet trends and relay them to the commercial vehicle industry at large," the association says. After the unusually challenging year that was 2020, NTEA says responders to this year's survey "indicate fleet purchasing activity [in 2021] will focus more on replacement than expansion. This is consistent with expectations, given the fleet purchasing cycle peaked in 2018-2019."
NTEA adds, "Survey responses made it clear 2021 fleet expectations vary depending on the industry served."
But while the fleet sentiment might not indicate a huge sales year ahead, most of NTEA's survey responders do plan to be somewhat active in the market.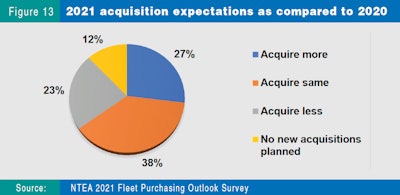 Approximately 27 percent of responders expect to acquire more trucks this year than last, while an overwhelming majority (88 percent) say they plan to make at least some acquisitions in 2021. Additionally, 29 percent of responders who plan to add trucks in 2021 say they expect to replace at least 10 percent of their fleet, and 32 percent of all responders expect a fleet size expansion in the year ahead.
NTEA admits the latter total was a 16 percent reduction from 2020 but was fortunately not coupled with a corresponding shift toward fleet contraction. Only three percent more responders expect their fleet to contract in 2021 compared to last year while 13 percent more fleets year over year expect their fleet size to remain the same. When segmented by market, delivery fleets are the most optimistic about maintaining or expanding their truck count in 2021 with construction fleets being the most pessimistic — 56 percent of those responders expect to downsize their fleet this year.
Among fleets that do intend to procure new equipment in 2021, most (77 percent) say they will do so through purchases — as opposed to leasing or rental. That is a 5 percent increase over 2020 and the highest percentage seen for purchasing in at least five years. Most fleets who plan to acquire trucks this year also are in good shape financially for those future purchases. Half of responders who plan to acquire trucks already have funding budgeted for their purchases, while another 40 percent say funding is expected to be available when necessary.
But the total number of truck purchases expected for this year is unquestionably down.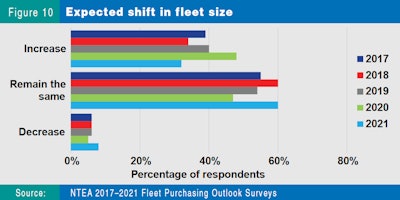 Nearly two thirds (64 percent) of survey responders expect to replace less than 10 percent of their current fleet this year. Last year that number was closer to 50 percent. And, even though most fleets say they'll make some acquisitions, 61 percent plan to acquire the same or fewer units this year than last.
Finally, the introduction of alternative powertrains from the OEM channel and the new presidential administration's push toward zero emission vehicles is beginning to drive small changes to fleet purchasing plans.
"Research continues to indicate the percentage of alternative fuel trucks (including hybrids), for responding fleets, will likely increase 39 percent in 2021, while gasoline- and diesel-fueled options will grow 16 percent and 8 percent, respectively," NTEA states. "Across the board, a majority anticipate fuel types remaining status quo in 2021 — due to an expectation that U.S. oil prices will remain relatively stable going forward."